Our Expert Guide To Rafting In Glacier National Park
May 11, 2022 / updated May 23, 2022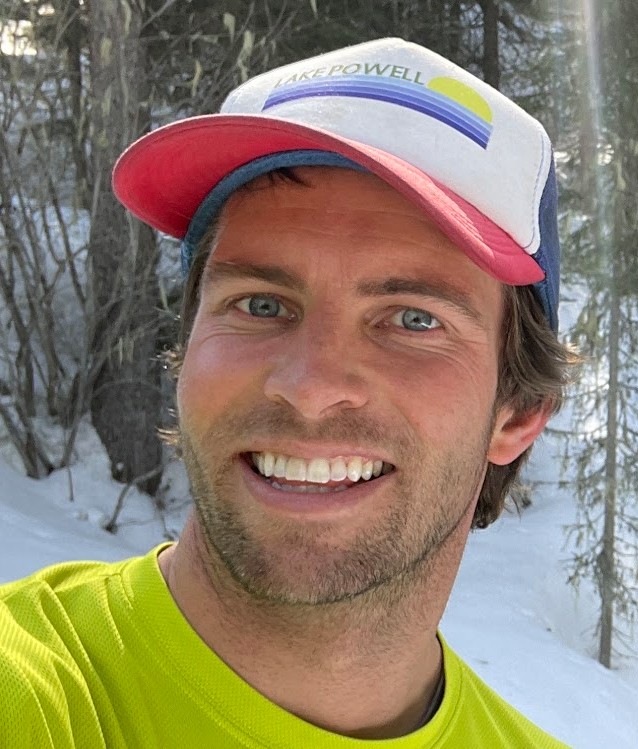 Rafting in Glacier National Park is one of the best ways to experience the natural beauty and wonder of Montana. As a former rafting guide on the Flathead River, I never grew tired of seeing the giddy expression on people's faces after a day on the river in Glacier.
In this guide, we'll share all you need to know about rafting in and around Glacier National Park. We cover the full range from half-day whitewater to multi-day trips in the Great Bear Wilderness. We'll help you pick the right whitewater rafting trip based on your budget, time and objectives.
When Can You Raft In Glacier National Park?
Rafting in Glacier National Park begins in May and ends in September. However, no month or week is the same due to the snowmelt that determines the height of the river. There are no man-made dams or other factors that affect the river flows, just good ol' mother nature. Most of the rafting occurs on the Middle Fork of the Flathead River, which is one of the select "Wild and Scenic Rivers" in the United States.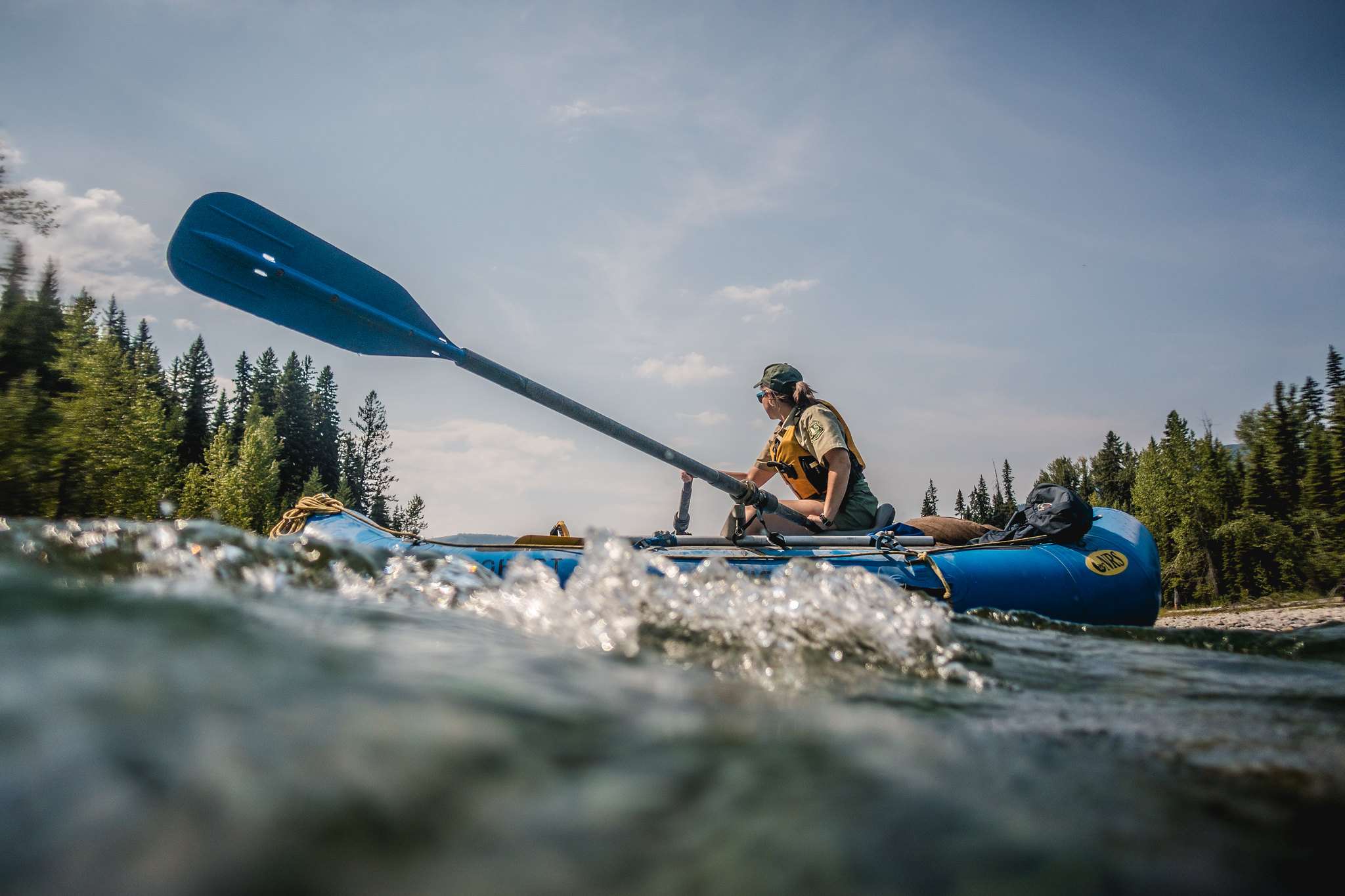 Spring Rafting in Glacier
In May and June the river is pumping with snow runoff. This means less paddling on the flat sections and bigger class II-IV rapids. May can still get chilly in West Glacier so you'll want to ensure you've got a warm fleece sweater and hat along. The leading local raft companies all have guides who will ensure you are properly outfitted and provide wetsuits if needed.
June is primetime where you still get big rapids along with the arrival of warmer weather in the 70's. Spring is a favorite season amongst the raft guides as the Middle Fork whitewater is at its prime for the most fun rapids.
Summer Rafting in Glacier
For the rafting season, summer is thought of in two parts; early-summer and late-summer. The distinction here comes from different river levels which then change the feel and features of the rafting experience.
Early summer
Early summer runs from mid-June to mid-July as the river changes from murky spring runoff to the iconic, crystal-clear waters Glacier Park is known for. Typically there are great water flows in the early summer which makes more parts of the river raftable and requires less paddling from the crew onboard (i.e. you!). The class II and III rapids are quite fun, but still family friendly. Rapids can be run from as high as Schafer Meadows down through West Glacier this time of year.
Later in the summer
Later in the summer, from the end of July into September, the river levels drop. The rapids are significantly smaller, more rocks are showing making things "bonier". The whitewater rafting is pretty much confined to the lower part of the Middle Fork near West Glacier by this time of year. You can also charter a private float down the North Fork of the Flathead river, along the south-western border of Glacier National Park.
While the size of the rapids may be better in the early summer, the late summer has fantastic fishing opportunities and the clarity and temperature of the water is remarkable.
Where Can You Raft In and Around Glacier National Park?
The Flathead River has a North, Middle and South Fork that all provide excellent rafting opportunities. 90+ percent of the whitewater rafting happens on the Middle Fork near West Glacier. With that said, the North Fork and South Fork of the Flathead provide incredible rafting as well.
The North Fork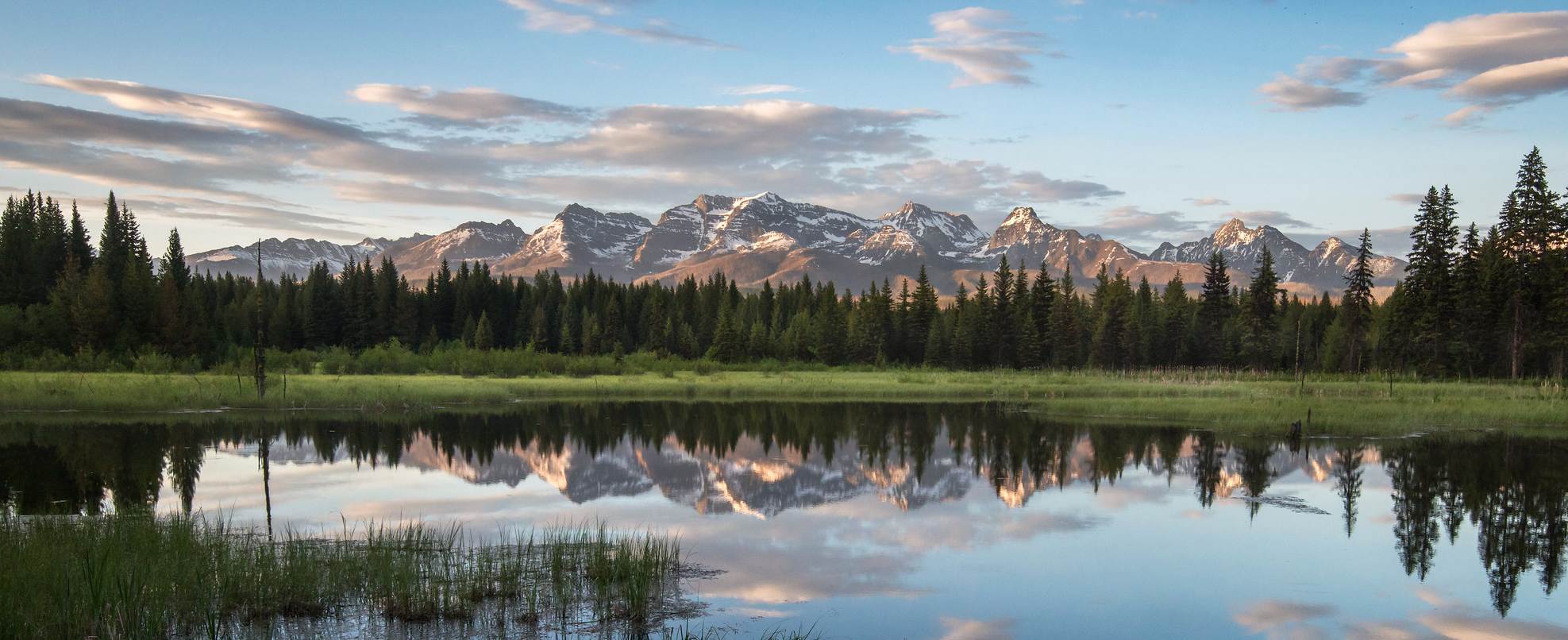 The North Fork runs from Canada down the western border of Glacier National Park. The fish are abundant and the views are breathtaking. It has much smaller rapids, but great caution is still needed as there can be fallen logs, especially in early season. It is great for single day trips or overnight rafting trips too. This river is one of my personal favorites because of the spectacular views into the west side of Glacier Park.
The South Fork
The South Fork of the Flathead begins deep in the Bob Marshall Wilderness and is usually done via multi-day pack rafting trips with an outfitter. This is about as remote as you can get in the Lower 48. The south fork joins the Middle and North forks of the Flathead a few miles below the Hungry Horse dam near Glacier.
The Middle Fork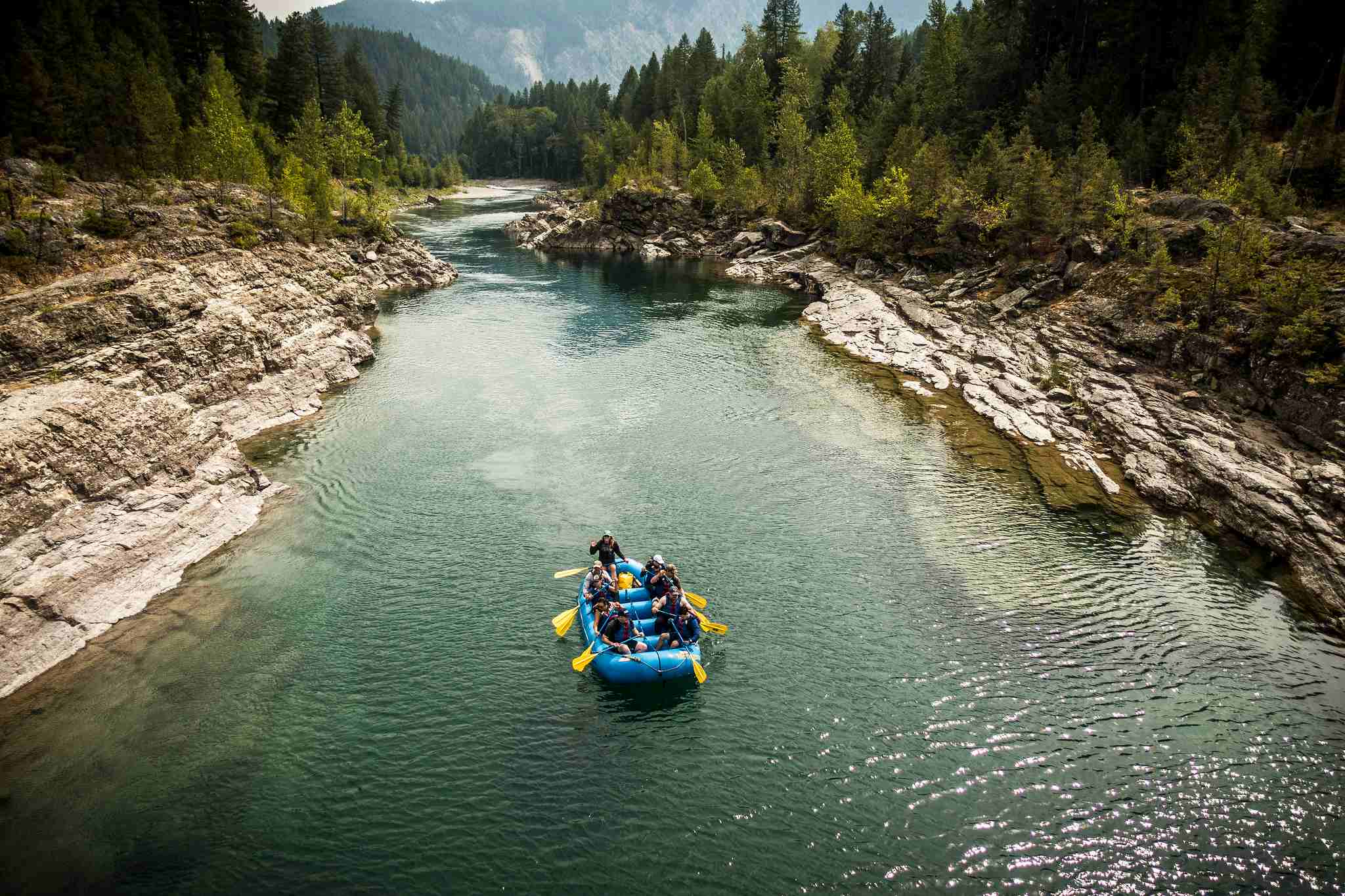 The Middle Fork of the Flathead River forms the southern border of Glacier National Park beginning west of the continental divide at Mariah's Pass and running through West Glacier. This is by far the most popular river for whitewater rafting in the area as there are several companies that will take you through the rapids just above the entrance to West Glacier.
Polson
Finally, at the south end of Flathead Lake, below the Kerr dam in Polson, there are Wild Buffalo Rapids. These are some of the biggest and most exciting rapids in the area. This part of the river is on indigenous land. Private boaters need to gather a permit by calling 406-675-2700 or go with a guided rafting trip from Flathead Raft Co.
What Is Whitewater Rafting ?
The difference between "rafting" and "whitewater rafting" comes down to the rapids you encounter when going down a river. Whitewater rapids are divided into Class I-V based upon how large they are and how difficult they are to navigate.
In Montana's Flathead Valley there are a handful of areas that offer true whitewater rafting. The 8-mile stretch of the Middle Fork, above West Glacier is certainly the most popular. Here you'll find 9 pool and drop rapids flowing through beautiful scenery. The whitewater rapids here are typically class II and class III with one class IV depending on the time of year. The rafting is fantastic for families with kids ages five and up or there are non-whitewater options for those with little ones.
Map of Rapids and Their Rating on the Middle Fork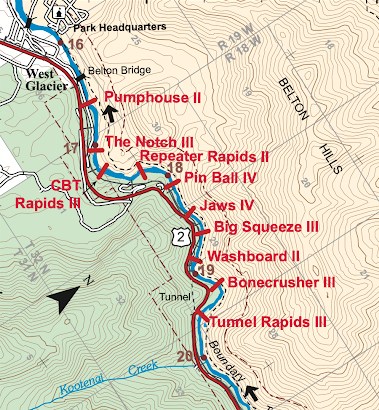 Map Source: USDA
The history of whitewater rafting near Glacier Park dates back to 1974 when George Mumalo arrived as the first river outfitter. He founded what is now Wild River Adventures and was quickly joined by pioneers Darwon Stoneman and Onno Wieringa in 1976 who founded Glacier Raft Co. Today, there are four main companies that offer whitewater rafting trips in Glacier Park.
Why is Rafting So Popular in Glacier National Park?
Rafting in Glacier provides an opportunity to relax, soak up the sun and see a vast amount of scenery up close and personal. It is not uncommon to see elk, bighorn sheep, black bear or even an occasional grizzly while enjoying one of the rivers near Glacier. Unlike driving, you don't have a road and traffic to deal with. Instead, just focus on the river and enjoying your friends and the surroundings.
The incredible views is another reason for rafting's popularity. On the Middle Fork, you can gain breathtaking views of the Nayak region, the iconic St. Nicholas peak and the historic Great Northern Railroad. On the upper North Fork of the Flathead, the views of Rainbow Peak and the area surrounding Polebridge will have you snapping pictures left and right.
On a hot day, rafting provides the ultimate way to stay cool. There are multiple opportunities to jump in the river or engage a neighboring boat in a water battle. Once you get through most of the rapids, there is a large pool where you can challenge your friends to a balancing competition on the bow and stern of the boat as your raft spins faster.
Choosing a Location and Rafting Trip Length
Picking the right rafting trip comes down to your intention, your gear and how much time you've got. A multi-day rafting trip will require significant planning and a booking well in advance as these guided trips fill up fast.
If you're looking to do a half-day whitewater trip you can likely book just a few days in advance or even get lucky with a walk-up reservation if you have just a couple folks in your group. If you've just got 3-4 hours then a half-day trip is perfect and still allows you to explore other parts of the Park around West Glacier.
The most common raft trips are the half-day and full-day trips on the Middle Fork. However, if you want to book a guided overnighter on the North Fork or Upper Middle Fork we've picked out our favorite options here. Guides will bring most of the gear you need, prepare the meals and plan the overwhelming amount of logistics involved in a multi-day raft trip. If you are looking to tackle a bigger trip on your own, you can explore one of these rivers or the Clark Fork river in the Lolo national forest with a first-come, first-served approach to campsites along the rivers.
Best Rafting Options for Families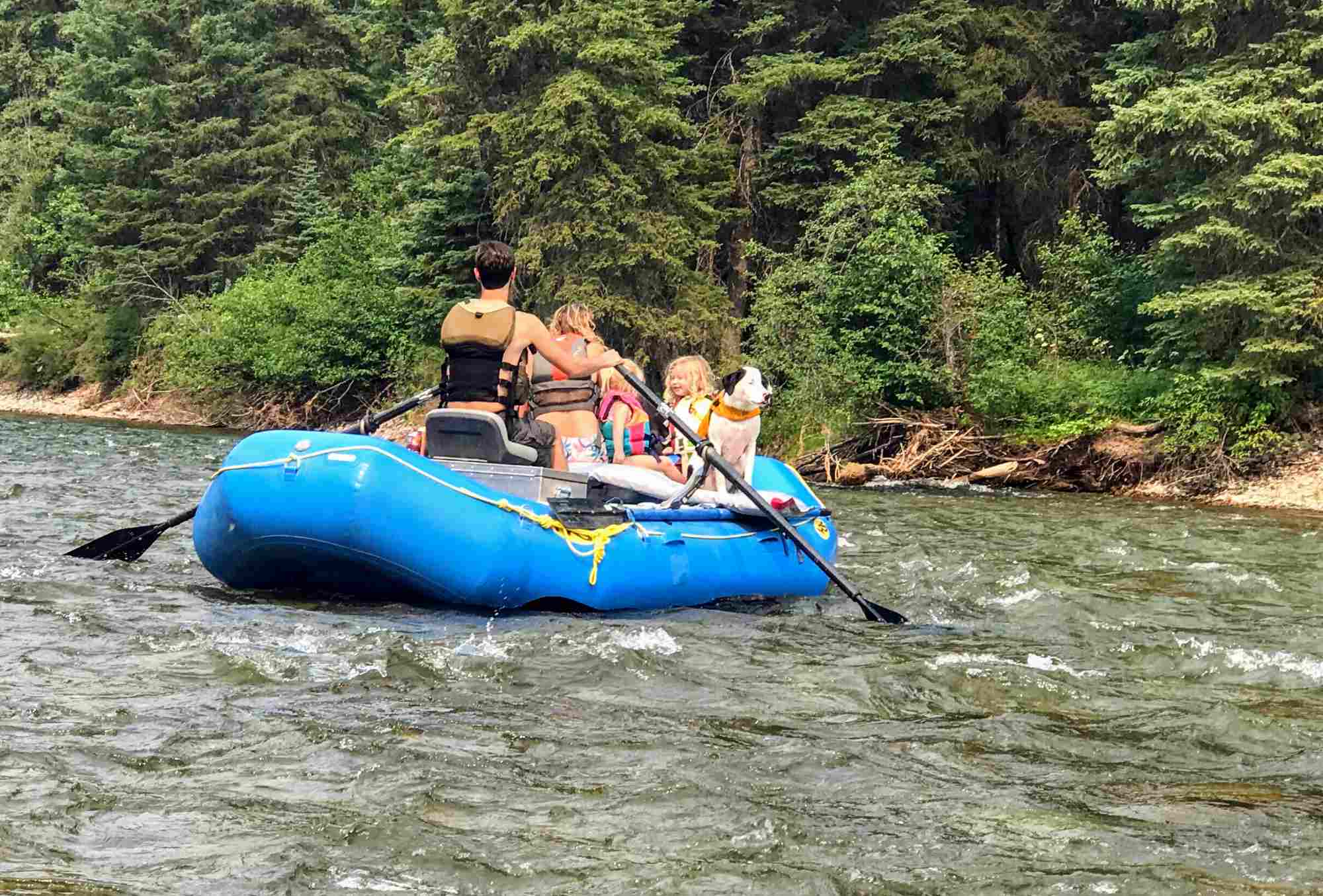 The Middle Fork of the Flathead from late June to September is a great option for whitewater rafting with families of kids ages five and up. We discourage rafting with young kids (five and under) in May and early June because the weather is often cooler, the water is colder and the rapids are bigger. You can get great up-to-date stats on Middle Fork river flows and temperature. Feel free to give us a call or email if you want to check on the status of the river.
If you have younger kids, you can book a half-day scenic or a dinner float trip that begins in West Glacier, below the whitewater, and takes you down to Blankenship Bridge. This meandering section of the river takes you through deep gorges with impressive cliffs and beautiful water.
The lower Flathead River is a great section of the river for rafting with families and fishing. It's common to put in at The House of Mystery and float to Tea Kettle bridge in Columbia Falls or on to the Old Steel Bridge in Kalispell. While this area is typically filled with private boaters and guided fly fishing trips, you can rent your own gear to hit the water or request a private guided raft trip as well.
Best Rafting Options for Couples & Individuals
My personal favorite way to enjoy the Middle Fork is on a "ducky', a single or two-person inflatable kayak. The rapids are more extreme and the smaller boat lets you truly feel the flow of the river. You can rent a ducky to venture out on your own or as part of a guided raft trip. If you want to experience the whitewater we definitely recommend doing so on a guided trip vs attempting it on your own unless you are an experienced river rat.
As a couple or individual you can join a larger group for the half-day whitewater. I'd also encourage you to consider renting your own Stand Up Paddleboard (SUP) and hitting up the beautiful section of the Middle Fork from West Glacier to Blankenship bridge or Glacier Rim to Blankenship down the North Fork.
If you're looking to get out on tubes, you can float from Lake Mcdonald's Apgar Village down McDonald Creek. The Creek meanders nearly two miles to the confluence of the Middle Fork and typically takes 2-3 hours at a leisurely pace. However, you'll need to ensure you've got access to the park, so book your Going To The Sun Road access in advance.
Best Rafting Options for Large Groups
Rafting logistics are complicated, especially with a large group. Gear, boats, shuttles and food make large rafting trips on your own a massive amount of work. For this reason, we suggest going with a half-day or full-day guided trip out of West Glacier. Let the guides do the lifting and let you and your group do the partying.
Best Rafting Options for Thrill-Seekers: Big Rapids, Overnight Trips & Other Adventures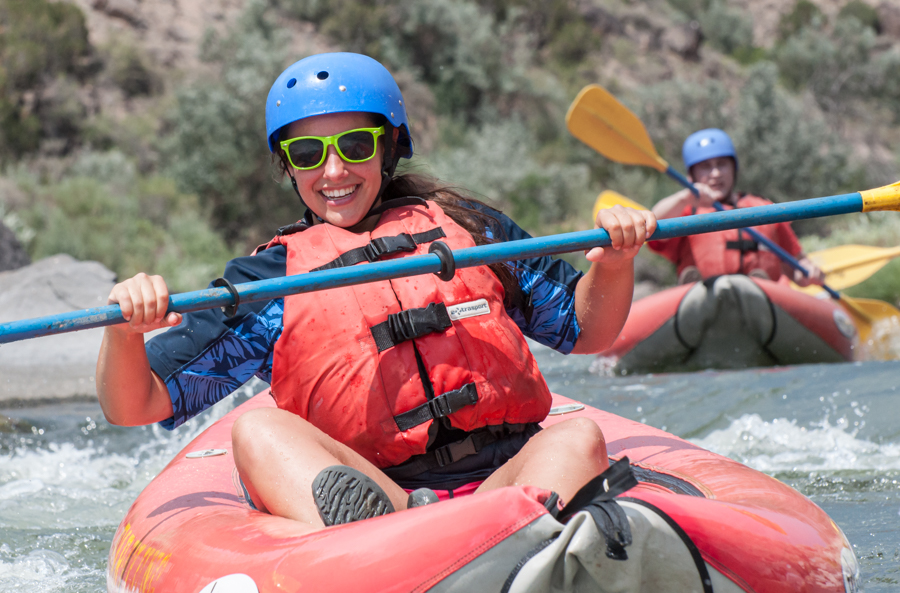 Image Source: New Wave Rafting
Are you looking to step up the excitement factor? The rafting around Glacier is typically more "family-friendly" but we have four recommendations for those seeking some adrenaline on the river.
Rent a "Funyak" Inflatable Kayak - These 1 and 2 person inflatable kayaks amplify the size of the rapids and the thrills too. Taking a ducky through the rapids above West Glacier is a fun adventure and may even involve you swimming through a rapid or two!
Head to Wild Buffalo Rapids - These rapids are some of the most exciting around. They are particularly good if you are staying in the Flathead Lake area as you'll depart from Polson at the South End of the Lake.
Head to the "Upper" Middle Fork - This stretch of the river is only accessible by foot or by plane into Schafer Meadows. It is done as a multi-day trip. The fishing is amazing, the rapids are exciting and you are deep in the remote Great Bear Wilderness.
Book a multi-day trip - There is no better way to fully enjoy the surrounding area of Glacier than a multi-day rafting trip on one of the three forks of the Flathead. The North Fork has the best views, the Middle Fork has incredible fishing and the best rapids and the South Fork gives you the option to float in a packraft and explore the Bob Marshall Wilderness.
Understanding Rafting Safety and Rapid Classification
Prioritizing safety is critical while enjoying the rivers in Montana. Unfortunately, more people die from drowning in Glacier National Park than any other cause. Going with prepared guides and having a healthy respect for the river will set you up for success. Here's a few tips to avoid issues while out on the river:
Always wear your PFD (personal flotation device)
Steer clear of fallen trees or "strainers" on the river. This is SO IMPORTANT we can't state it enough
Know where you are going and scout sections of the river if you are unsure of what lies ahead
Be prepared for the cold. It is always a good idea to bring a fleece sweater, rain shell (jacket and pants) and a hat
Keep a clear head - Enjoy yourselves out there, but ensure you've got a sober captain on your raft
Rapid Classification
Whitewater rapids are classified on a I through V system with Class I being the most mellow and gentle rapids.
Class I Rapid Definition - Moving water with a few riffles and small waves. Typically there are few if any obstructions at all.
Class II Rapid Definition - Easy rapids with smaller waves and clear channels. While some maneuvering might be required, a clear route should be obvious without scouting.
Class III Rapid Definition - Rapids with high, irregular waves. Narrow passages that often require precise maneuvering. These waves have the potential to swamp a canoe and should often be scouted beforehand from shore.
Class IV Rapid Definition - Long, difficult rapids with constricted passages that often require complex maneuvering in turbulent water. The course may be hard to determine and scouting is often necessary.
Class V Rapid Definition - These are extremely difficult, long, and violent rapid. The route is congested and the route should be scouted from shore. Rescue conditions are difficult, and there is a significant hazard to life in the event of a mishap. The upper limit of what is possible in a commercial raft.
What to Bring on a Rafting Trip
No matter what the weather, you'll always want to bring along shoes that can get wet and will stay on your feet. It is also a good idea to have sun-glasses and a hat. Pro Tip: Bring polarized sunglasses to allow you to better see the rocks, fish and true colors beneath the surface of the water.
In general, assume everything you bring on a whitewater rafting trip will get wet. Bring your waterproof camera, but leave the other fancy electronics behind.
Warm Weather - Apart from having shoes like Tevas, Keens or Chacos that will stay on your feet, sun protection is the main thing you should be thinking about. Put on your sunscreen before leaving your car. For a full-day trip bring it along with you for a re-application midday. Don't forget the tops of those thighs baby!
It is a good idea to bring along a bottle of water. Also, bring a dry pair of clothes you can leave in your car and change into upon your return. Check with your guide, but they might allow you to bring your squirt guns too!
Cool Weather - On a cooler or rainy day ensure you bring along clothes to keep you warm. You'll have a better time if you do, guaranteed. Bring a fleece sweater, rain jacket/pants and a hat. For the gear you don't need (i.e. towel and pair of dry clothes), keep it in your locked car and leave keys in the office so you don't donate them to Mother Nature at the bottom of the river.
What to Wear on a Rafting Trip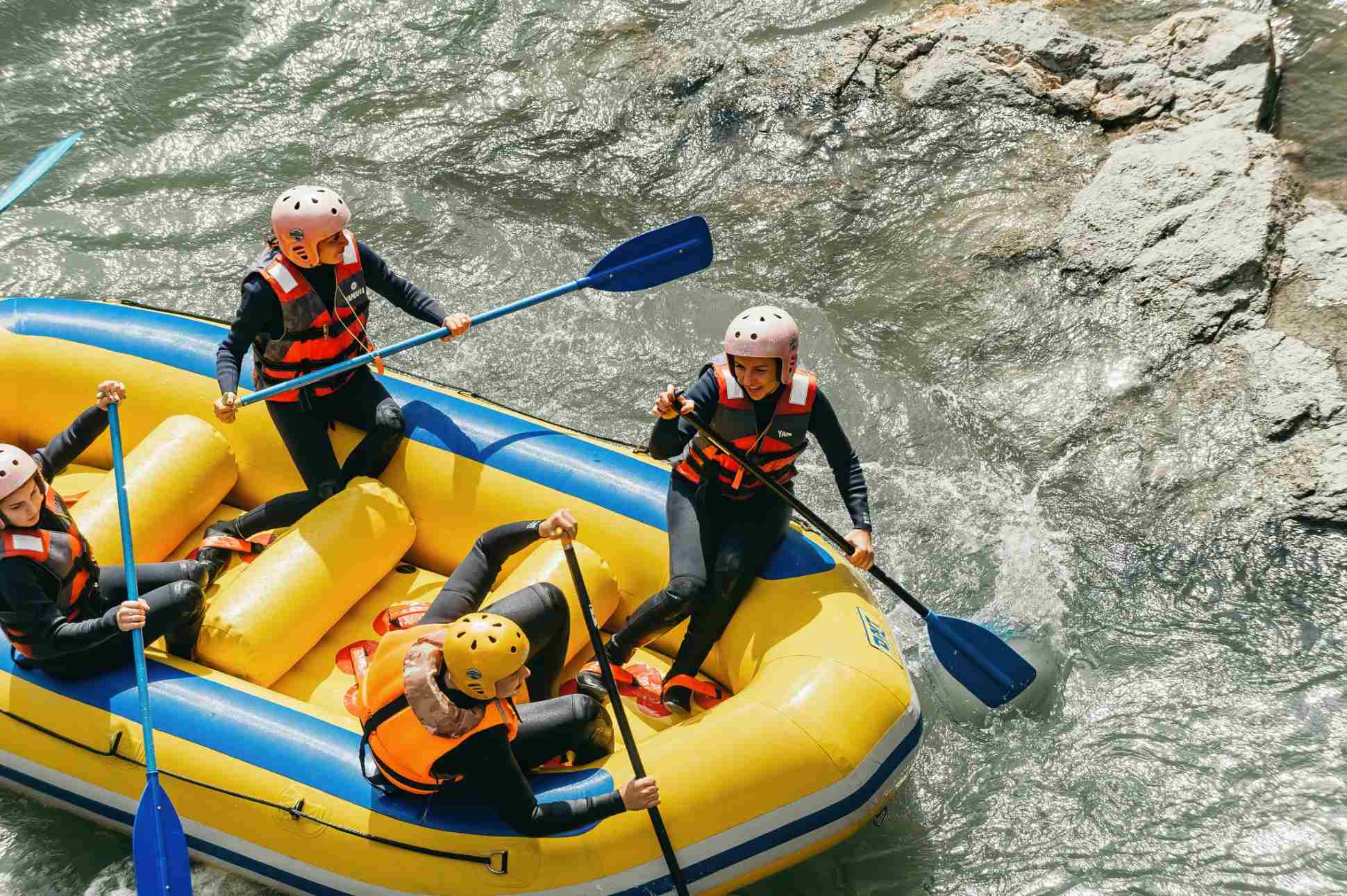 On a warmer day, you'll want to wear a t-shirt, swimsuit and/or shorts. For cooler days, layer up with a fleece sweater and a waterproof jacket that can shed water and also keep the wind from cutting through. If it is cold, wear waterproof pants, a hat and gloves. If the weather and water conditions require it the guides will provide you with a splash top or wetsuit as well.
Regardless of the weather, always wear shoes that can get wet and will stay on your feet when swimming. We'd recommend Tevas, Chacos, Keens or similar river shoes. You can typically rent neoprene water socks for comfort and warmth.
Price Ranges & Budgeting for Rafting
There is a large range of what you can spend when whitewater rafting depending on what you choose to do. It isn't cheap; but is it worth it? We think it's worth every penny!
Half-Day Whitewater Rafting - These trips will typically cost $65-95 depending on peak season rates. Book in advance online as the prime times and dates often sell out early.
Full-Day Whitewater Rafting - Most full-day options will include lunch and typically cost around $125 - $150 per person.
Multi-Day Trips - This is where you'll get a wide range depending on the company you choose, the destination and what type of rafts you are using. The simplest version of this would be a single night on the middle fork that runs about $1,600-$1,900 for a group of 4 people. If you opt for a 4-day trip in the Great Bear Wilderness of the upper Middle Fork with a flight into the wilderness to begin your journey you are looking at more like $7,000 per group of 4 people. We recommend getting at least two nights on the river to really be able to settle in and appreciate the incredible experience.
Private Boat Rentals - You can rent kayaks, rafts or SUPs from Glacier Outfitters on your way into the Park or Cloud 9 Rentals in Columbia Falls.
No matter which rafting trip you choose you will have an incredible opportunity to connect with nature and discover new terrain. From the border of Canada on the North Fork to deep in the Bob Marshall Wilderness on the South Fork, the rafting opportunities near Glacier Park cover some of the most spectacular terrain in the lower 48.
Hopefully, this guide is a helpful resource for you and don't hesitate to reach out to us with any other questions we can answer.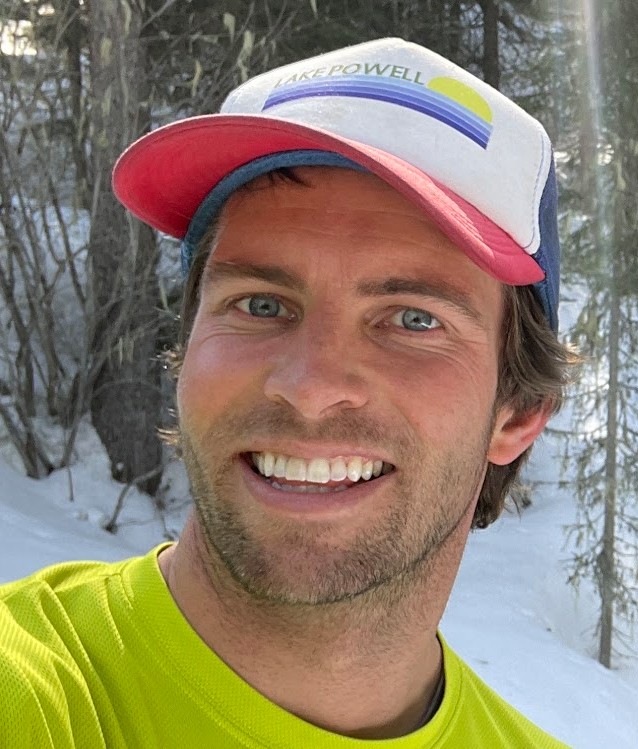 Travis V
Montana Native, Adventurer
Travis is a Montana native from Kalispell who loves the outdoors. When he's not getting clients out on tour he can be found discovering new peaks in Glacier or wetting a fly line in his favorite area of the North Fork of the Flathead River.