Year-round Weather in Glacier National Park
March 24, 2022 / updated May 23, 2022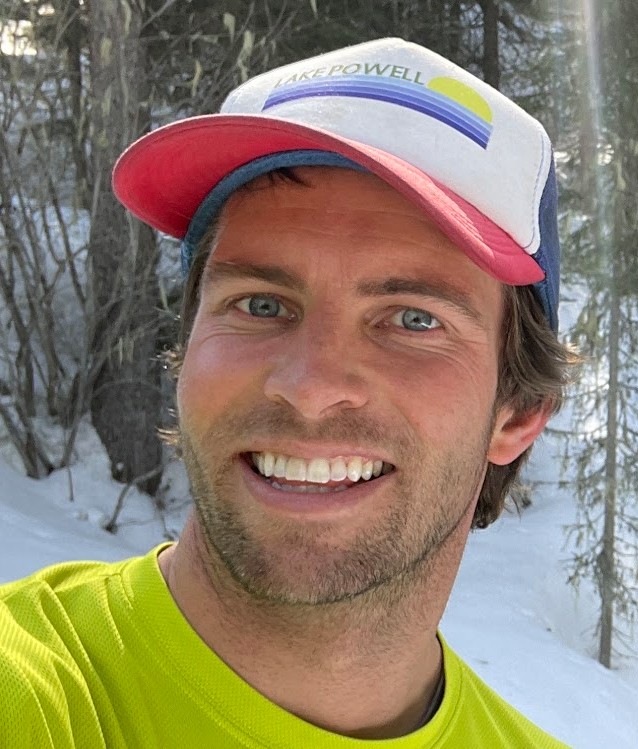 The weather in Glacier National Park ranges from summer high's in the 90s to the negative digits in the winter. Even in the ideal summer weather window, temperatures and conditions vary widely and change rapidly.
So how can you be prepared for the weather on your next trip to Glacier?
In this guide you'll gain an understanding of the weather patterns you can expect month-by-month in Glacier. You'll also get recommendations to help you enjoy Glacier, rain, shine or in the snow. As Alfred Wainwright once said, "There's no such thing as bad weather, only unsuitable clothing."
Understanding Glacier National Park Weather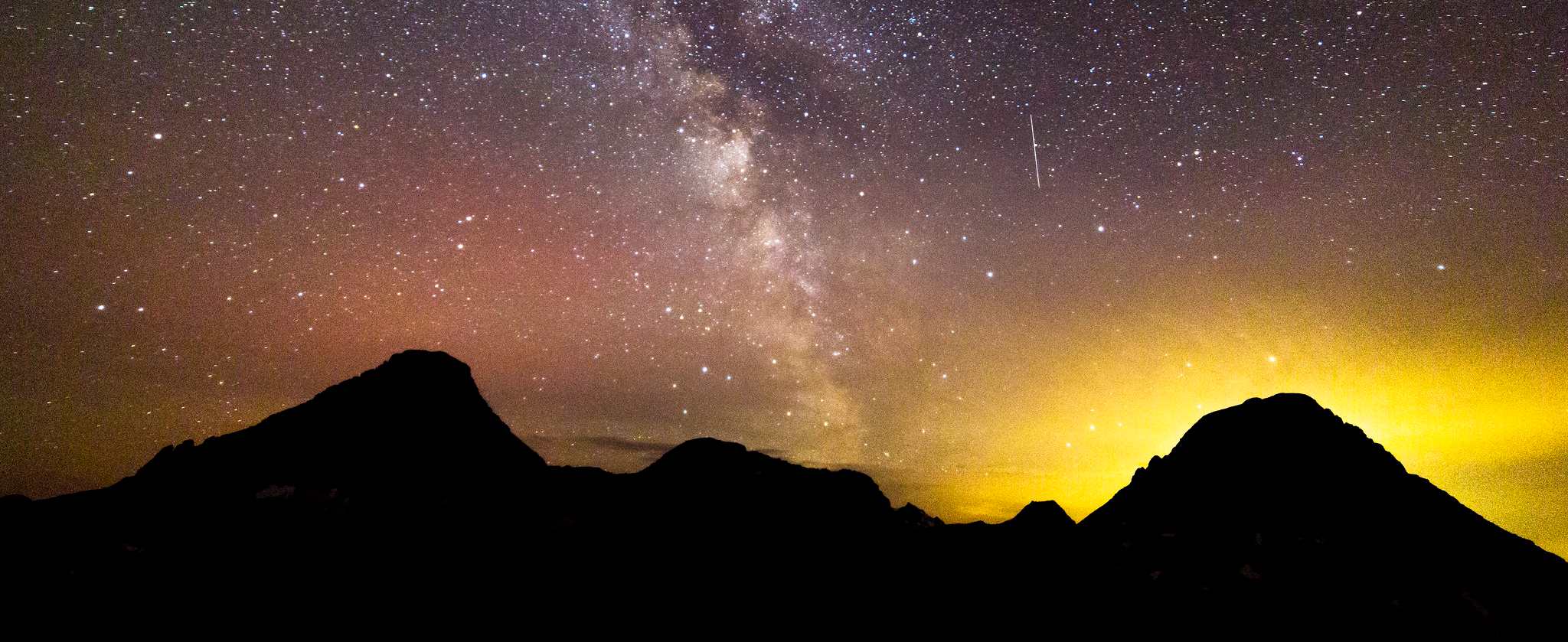 Tucked in the Northwestern corner of Montana where the Rockies meet the plains, Glacier is subject to rapidly changing conditions in different parts of the park. Each season in Glacier Park brings about its own unique weather patterns and considerations. Presuming you plan to leave the comforts of your car, even for a short hike, it is important to pay attention to key weather factors.
Glacier Park Temperatures
The temperature in Glacier is obviously one of the most important factors. If you're visiting anytime besides July or August you should be prepared for the possibility of freezing temperatures at night or at higher elevations. While a typical day in the summer may be around 80 degrees in West Glacier, the average temperature up at Logan Pass, which sits at 6,647 feet is typically 10-15 degrees cooler than West Glacier. Don't just look at the weather forecast and take one temperature as a given truth. Consider your elevation and factor in a significant drop in temps as you drive or climb from the level of Lake Mcdonald up to Logan Pass and beyond. Check the Logan Pass forecast before you head out.

Source: NOAA for West Glacier, Montana
Wind
Wind is the next critical element to think about. Many days can be very windy, especially if you are westward facing or above tree line. If you plan to drive up Going-To-The-Sun Road to do a hike to Hidden Lake Overlook or the Highline Trail, ensure you've got adequate protection from wind by bringing a rain jacket and either soft-shell or rain pants.
Precipitation
July and August in Glacier Park are relatively dry, with an average of 1.6 and 1.4 inches of monthly rainfall respectively. With that said, ALWAYS bring a rain jacket with you in Glacier. What starts as a sunny day can quickly change to an afternoon thunderstorm. With a rain jacket on, you'll enjoy your hikes and sightseeing so much more, regardless of any precipitation.
Of course, if you plan to come in the spring, be prepared for rain and be pleasantly surprised if you get sun. May and June are the two rainiest months of the year in Glacier National Park. Big rains combined with rapid snowmelt means the rivers will be pumping. This is an incredible sight, but we can't urge you enough to keep a safe distance from the river's edge. Drowning in rivers is the number one cause of death in Glacier National Park, so respect this force of nature and keep you and your family at a safe distance as you look at the beautiful waterfalls and rapids.

Source: NOAA for West Glacier Montana
Local Tip: April can be a sneaky month for pleasantly nice conditions and zero crowds. Precipitation levels are actually about the same as July in Glacier and you can catch a sunny day for a hike, snowshoe, bike or ski.
Fires
Summer fires should be an additional consideration as you plan your trip. If there is a low snow year and a hot, dry July you can expect that August will likely bring fires and smoke from the surrounding area. Glacier Park's last significant fire was the Howe Ridge Fire in 2018. Fires in the park can close off large sections of it, but this is relatively uncommon. More often, the smoke from fires in other parts of Montana and Canada can come in so thick as to obscure the magnificent views of the surroundings. If you have health issues or want to avoid the smoke altogether, plan a trip in the spring, early summer or mid fall.
What to Expect: Seasonal Weather in Glacier National Park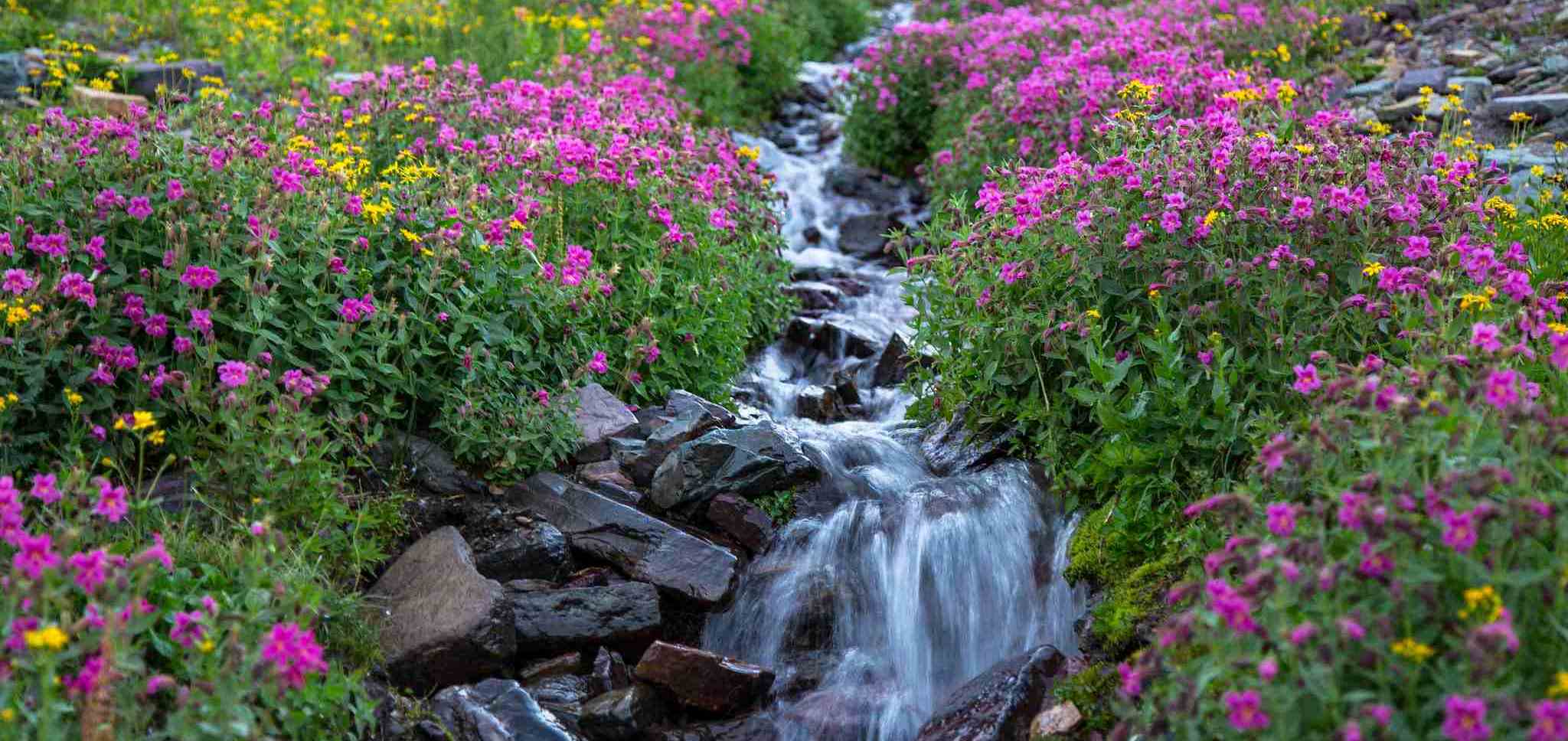 What's The Weather Like During Spring In Glacier National Park?
Spring is a wonderful time to discover lower-elevation hikes or raft whitewater rapids on the Middle Fork of the Flathead River. May through June brings the most precipitation of any season in Glacier with highly variable weather conditions. Thus, you MUST be prepared for any kind of weather in the spring.
Typical high temps are in the mid-50's and mid-60's in April and May respectively. Lows are mostly in the 30's. By June, temps warm into the low 70's, but remain very cold at night in the 40's.
The snowpack will be the most important weather factor for your spring visit to Glacier. From early May through late June, the snow lines will rise and the road crews will clear Going-To-The-Sun Road a bit closer to Logan Pass each day. This time is a great time to hike or bike this iconic road with no vehicle traffic around.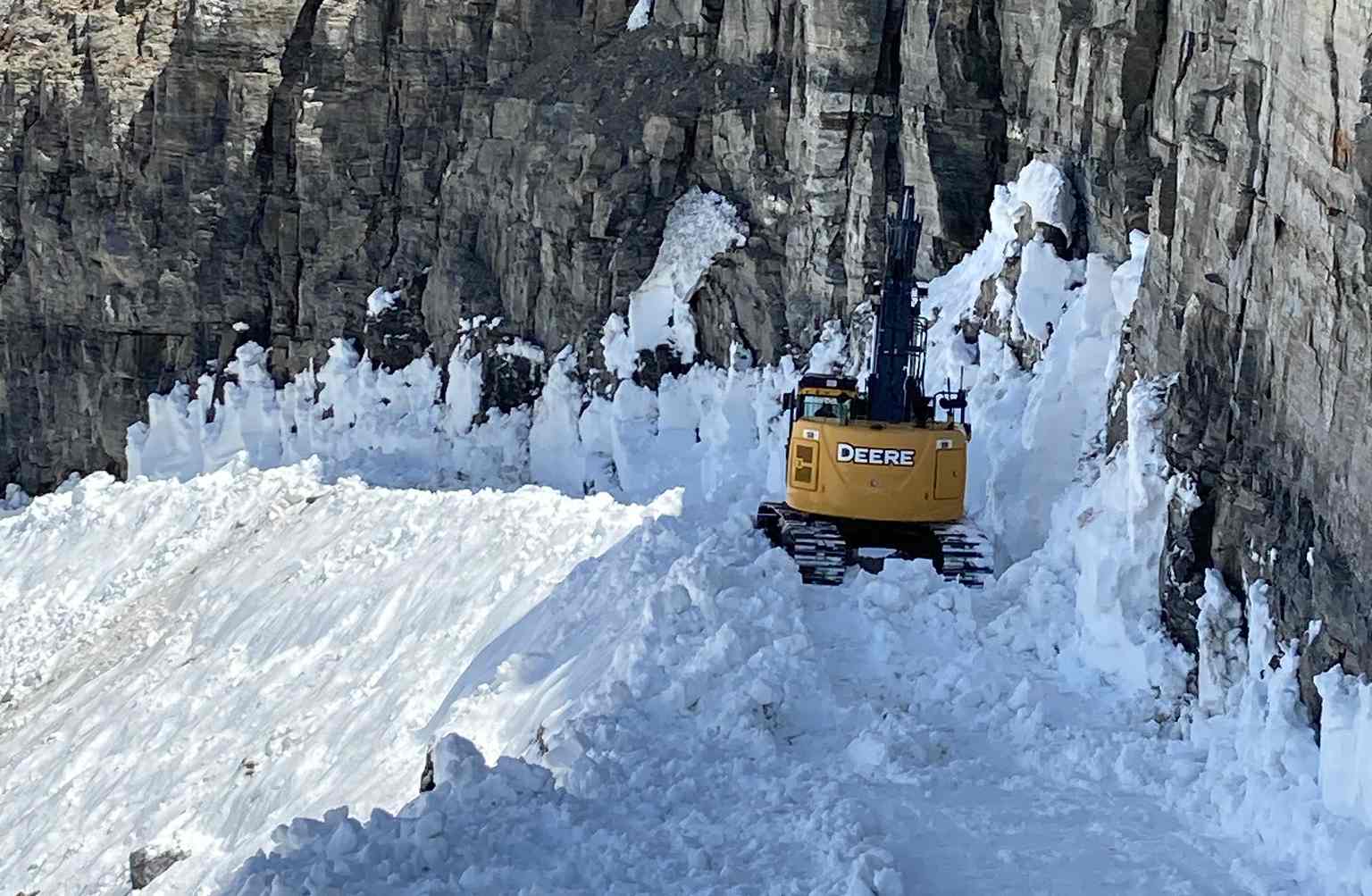 Come prepared for spring weather and you can beat the crowds and find much cheaper lodging than in the summer months.
Be Prepared In Spring
Bring your rain jacket and rain pants, mid layers and warm hat and gloves to ensure you stay warm in quickly changing weather conditions. Check the weather before you get into Glacier as there is no service throughout most of the Park. Bring bug spray as the mosquitos are at their "prime" in late May and June. Bears are out this time of year as well, so pack your bear spray in an accessible spot and make lots of noise on the trails.
What's The Weather Like During the Summer In Glacier National Park?
Mid-June through Labor Day is absolutely lovely in Montana. As locals, we endure the cold, dark days of November and March so we can enjoy the spectacular weather and beauty of Montana in the summer. Temperatures will typically be in the high 70s and low 80s. Recent years have seen more days in the 90's so it is imperative that you stay hydrated and bring plenty of sun protection.
Evenings get cool, typically in the high 40s, so bring warm layers if you are camping, hiking or backpacking. While July and August have the lowest precipitation all year, sudden storms will still roll in and can drop a lot of rain in a short amount of time through "cloud bursts". These systems can also cause temperatures to plunge so you don't want to be caught without your warm layers! Plan your trip with rain in mind and then lean on local weather before heading out the next day.
A typical day will be mostly sunny with a few clouds throughout. On average, roughly 75% of the time we get sunny days in Glacier during the summer. This lends itself well to the many incredible outdoor activities (LINK) in and around Glacier. Cool off on a hot day with whitewater rafting and some famous huckleberry ice-cream. Or take a hike to one of our favorite lakes for swimming in Glacier National Park (Link).
Be Prepared In Summer
ALWAYS have a rain shell or windbreaker. If you'll be away from your car for more than a couple hours, add a hat and gloves when hiking in Montana. Bring bug spray and plenty of water and sunscreen as well as bear spray if you'll be hitting the trails.
What's The Weather Like During the Fall In Glacier National Park?

Fall is perhaps my favorite time in Glacier. All of the roads and trails are still open, the colors are changing and the crowds have dispersed. All you need to do is wear an extra layer and come prepared for cooler temps! Expect high 60's in September and mid 50's in October.
In mid-September the air changes. The mornings are crisp and the nights are cold, dropping into the high 30's. Sunshine still abounds, but you'll likely have more fun hiking and biking than playing on lakes and rivers as the water temps drop considerably in September too.
Later in September, you will encounter more rainy days. High in the mountaintops a few dustings of snow appear, but not enough to limit travel. Head up to Logan Pass the last weeks of September and you're sure to encounter the magnificent sight of changing Larches, speckling the green hillsides with their golden color. As temperatures cool in early October, the colors descend the mountains into the valleys below.
After Labor Day, you can find much cheaper lodging and deals on activities around Glacier. By mid-September, you'll find some restaurants and shops closing up, so come a bit more prepared. By the end of September nearly all amenities are closed up for the year.
Be Prepared For Fall in Glacier Park
Bring warm layers, waterproof jacket and pants and hat and gloves. Throw in an extra pair of wool socks and you'll thank us later. Bugs are not an issue in the fall, but do carry your bear spray anytime you are hitting the trails. From late September through November you should pack your own food and water for the day as nearly as shops are closed.
What's The Weather Like During the Winter In Glacier National Park?
Glacier is a winter wonderland from December through March. Most of the park has limited access with the primary point of entry through West Glacier. Temperatures around West Glacier in the winter will be in the high 20's and low 30's on average. By March it warms considerably into the mid 40's and the snow begins to melt.
Due to the Whitefish mountain range to the West, the area around Lake McDonald often has less precipitation and milder weather than other areas of the Park in the winter. This can make for lovely snowshoeing (link) and cross-country skiing in the area. Just park near the Lake McDonald lodge and head up the road from there.
For the adventurous, the south side of Glacier can offer spectacular views and fantastic cross-country skiing. Be prepared for colder temperatures and higher winds as you climb to 5,213 feet at Marias Pass. No park entry fee is charged here and you can be sure you'll find very few crowds in the area. We suggest taking a local guide if this area is new for you.
Be Prepared For Winter
It goes without saying, but dress warm! Where lots of layers with down or fleece covered by waterproof shells. Bring hand-warmers and thick wool socks. Tell someone where you'll be traveling and when you'll be back in case there is an incident. Being stuck in the winter in Glacier is no joke.
What is the Weather Like in January in Glacier National Park?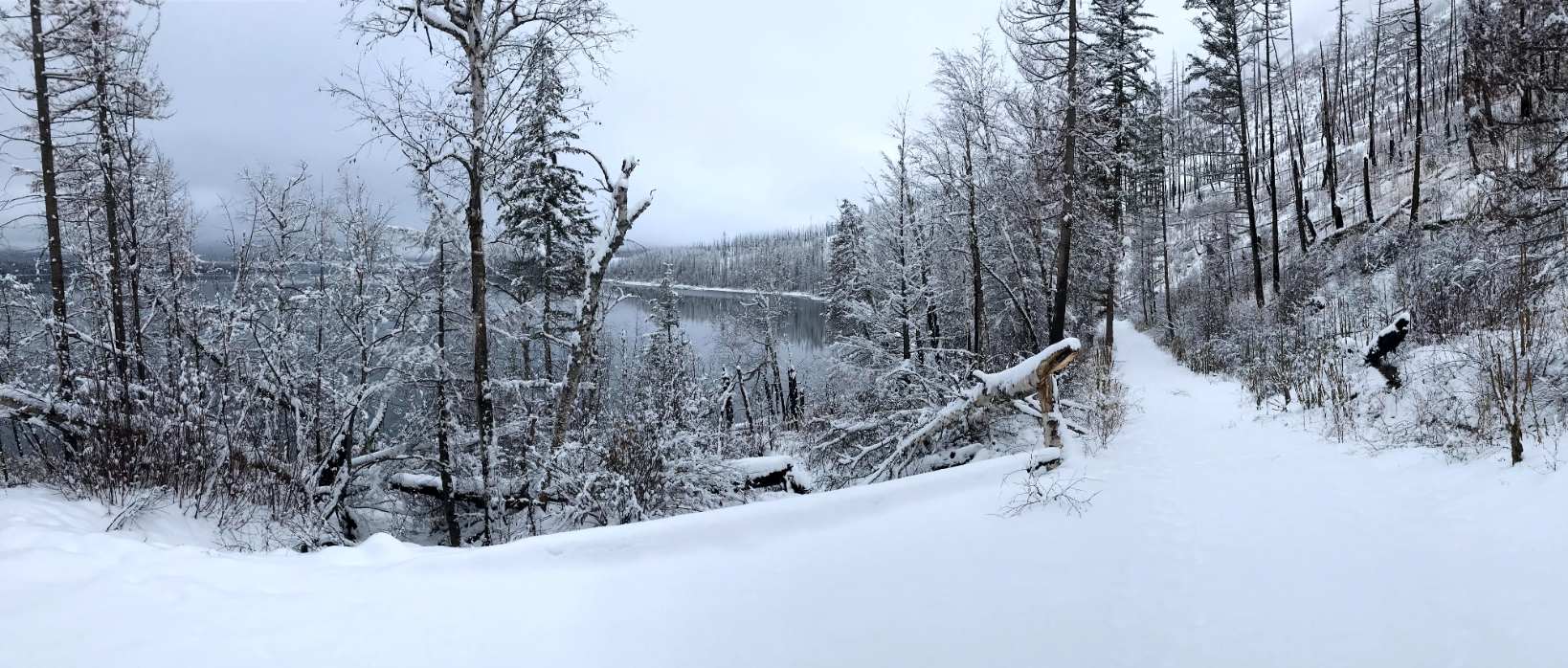 January is the coldest month in Glacier with average highs of 28 degrees. It also brings the most snow and precipitation of any winter month. Expect white snowflakes and come prepared to play like it's winter in Montana!
While it is not unheard of to catch an unusually warm January day (see pic of us from Jan 2021 below), plan for temperatures in the teens or 20s and pay extra attention to road conditions or weather warnings.
In January, you can drive through West Glacier to get to Apgar for great photos of Lake McDonald or head to the head of the lake and Park at Lake McDonald Lodge to begin a snowshoe or cross-country ski. Start your adventures early because the light fades quickly in the late afternoons this time of year.
What is the Weather Like in February in Glacier National Park?
February is the heart of winter in Glacier. Temperatures average a high in the low 30's when down in West Glacier, but drop considerably if you are heading up along the south side of the park towards Mariah's pass.
February is our favorite winter month for snowshoeing, cross-country skiing and playing in the mountains around Glacier. The slightly warmer temps are favorable and there is a solid snowpack that makes the backcountry skiing and snowmobiling incredible. While you can't snowmobile in Glacier Park, there are many trails nearby where you can rent a snowmobile or go on a guided tour to get out and enjoy groomed and off-groomed trails around the Flathead Valley.
What is the Weather Like in March in Glacier National Park?
In March, the weather warms considerably, climbing into the 40's by day and low 20's at night. Be prepared as there is still plenty of precipitation with 2.3 inches of rain and over a foot of snow that will come down.
One great thing about March is the "longer" days are noticeable, which makes afternoon and evening adventures around West Glacier even more appealing. This time of year you get 12-13 hours of daylight vs just 8-9 hours in early winter.

Access to most of Glacier Park is still limited and your best bet is to enjoy the area around Lake McDonald and Apgar. One of my favorite things to do in March is cross-country ski or snowshoe the ~5 miles up from Lake McDonald Lodge to the Avalanche Lake trailhead. Here you can enjoy the Trail of the Cedars or even continue on up to Avalanche Lake. Dress with many warm layers and ensure you've got great waterproof gear as you may encounter rain or snow and it's important to stay dry.
What is the Weather Like in April in Glacier National Park?
April is a neat month in Glacier and around the Flathead Valley. Snow is melting, birds begin to flutter about and temperatures rise into the low 50's on average. Yet, there is only 1.8 inches of average precipitation. What does this mean? It means keep your eye on the weather forecast as April can provide you gorgeous, sunny days that pop into the 60's in Glacier with zero crowds around.
In April there is still enough snow to ski, snowshoe and play in the mountains. However, the roads and trails at lower elevations are clearing of snow which makes hiking or biking in April a wonderful adventure.
What is the Weather Like in May in Glacier National Park?
May is one of the rainiest months in Glacier. But on the flip side that means cheap lodging, fewer crowds and many wonderful things to do in Glacier Park. On average, temps in the lower regions of Glacier will be in the 60's and climbing quickly towards the end of the month. On average, there is 2.6 inches of precipitation, so bring your rain gear and be prepared for quickly changing weather patterns with a change of clothes and socks.
Late May is one of the most popular times to bike up Going-To-The-Sun Road towards Logan Pass as it is still closed to automobiles. Park at the Lake McDonald Lodge or up at the Avalanche Lake Trailhead (if it is open) to begin your journey. Lower hikes to Lake McDonald or John's Lake are great hiking options this time of year.
What is the Weather Like in June in Glacier National Park?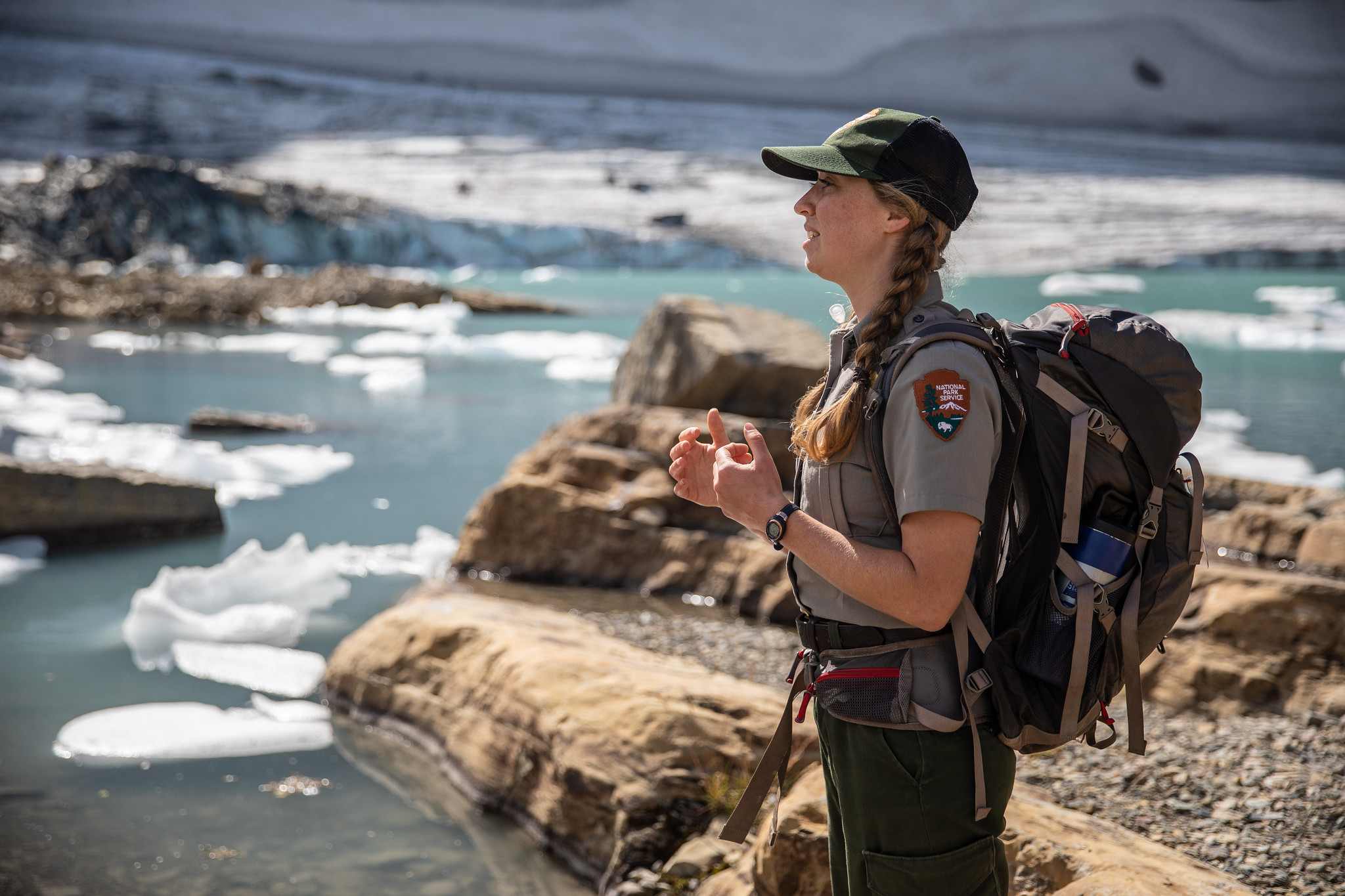 June in Glacier offers pleasant temps with highs in the low 70s. It is the rainiest month of the year in Glacier, so come prepared with your rain gear and ensure you pack extra warm layers too.
While there is still lots of snow in the mountains, by June, most of Glacier Park is opening to vehicle travel. On the East side of the Park the popular Two Medicine road and campground is open as well as access into Many Glacier. Up the North Fork road, near Polebridge, the northwest entrance to the park is open to allow hiking and camping around Kintla and Bowman Lake. Perhaps most importantly, the Going-To-The-Sun Road usually opens in mid to late June. Checkout up to date information on road openings around Glacier.
While temperatures are normally mild in June, it can spike into the 90s or you might encounter cold rainy days in the 50's as well. Bring many layers, sun protection and bug repellent and you'll be ready to endure anything mother nature throws your way.
What is the Weather Like in July in Glacier National Park?
July is perhaps the "best" month for weather all year in Glacier National Park. Temperatures average highs in the upper 70s and have a low around 50 degrees at night. You'll find sunshine 22 days of the month. Snow will still be found in the mountains of Glacier and the surroundings will be green still from the spring rains. These warmer days mean Going To The Sun Road will be open all month, even on a big snow year.
While the weather is pleasant, it's important to still be prepared for potential microbursts that can drop a lot of water in a short amount of time. They can roll in quickly, often in the afternoons. Always have a rain jacket on hand and you'll be good to go!
July is the first month of the summer when wildfires can become an issue. While they're more common in August, a dry spring and hot July can still lead to wildfires in and around Glacier.
What is the Weather Like in August in Glacier National Park?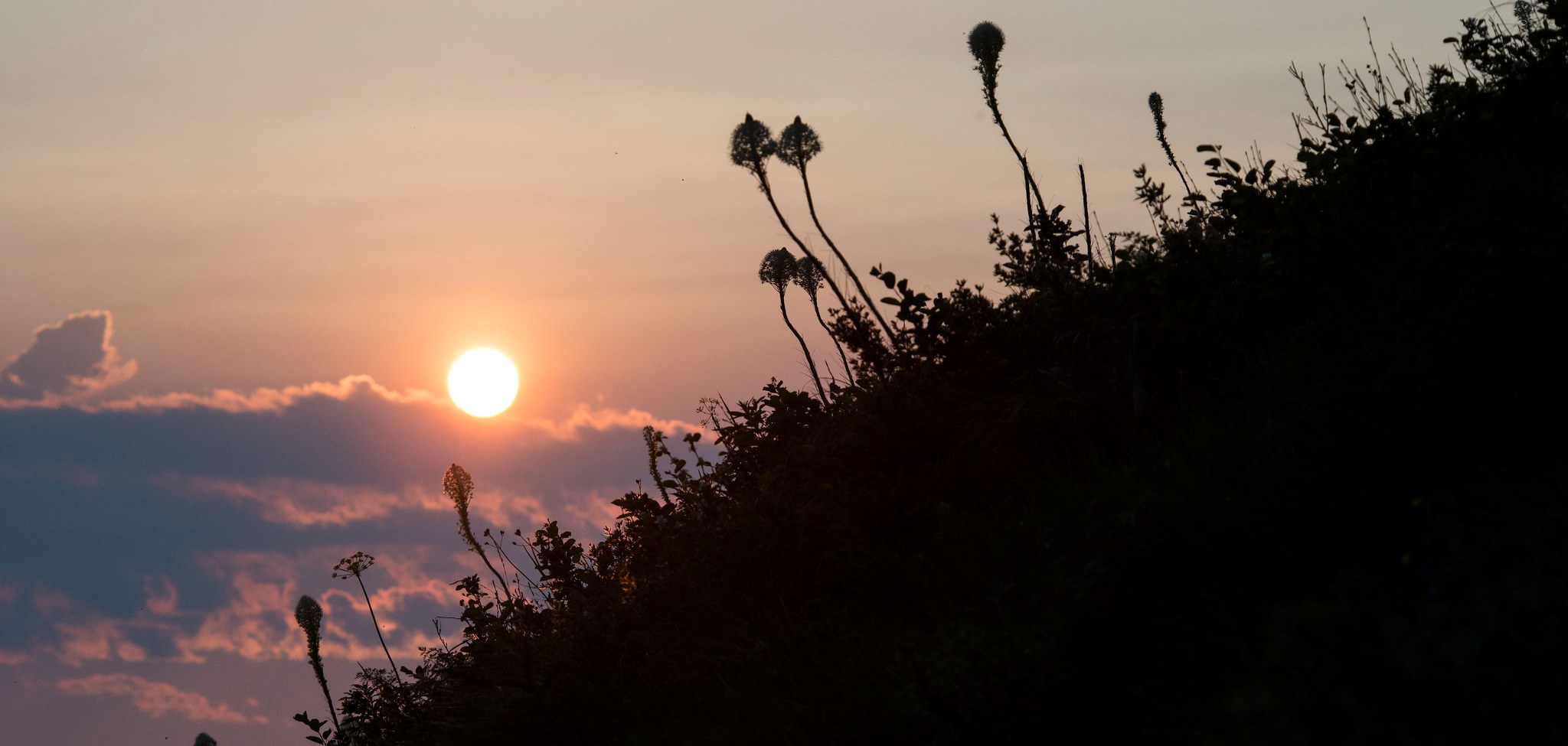 Early August is the warmest time of the year in Montana. Expect temperatures around West Glacier in the high 70's and low 80's by day and cooling into the high 40's at night. It is also the driest month of the peak season with only 1.4 inches of precipitation and an expected 5 rainy days for the whole month.
By late August, river levels have dropped and the waters are crystal clear. It is possibly the best month of the year for fishing around Glacier (INSERT LINK). We recommend you get out there early before the midday heat or go for a late afternoon float.
August is often the "fire season" around Glacier, so keep an eye on the news or helpful maps that track smoke patterns here. While the smoke and fires are usually not dangerous, they can really inhibit the spectacular views or make a long hike less ideal.
What is the Weather Like in September in Glacier National Park?
September in Glacier has an average high of 69 and hits a low of around 40 degrees at night. The air becomes crisp and the temperature of the surrounding rivers and lakes get cooler as well. September is still relatively dry with an average of just 7 rainy days, there is plenty of sunshine to go around.
The cooler temperatures bring about splendid fall colors in late September. Up at Logan Pass, temperatures will often be around 50-60 degrees in late September and yellow Larches begin to scatter the hillsides. Come prepared with extra layers and you can enjoy this wonderful time of year in Glacier with typically fewer crowds than the summer peak season.
What is the Weather Like in October in Glacier National Park?
October weather patterns can vary dramatically. You might have snow flurries and freezing temps one day followed by 60 degrees and sunny the next day. On average, October temperatures around West Glacier are in the mid 50's and lows around 32 degrees.
While October can still be an incredible time to visit Glacier National Park (LINK), note that most restaurants and stores in the area will be shut down. Plan your days with extra provisions and plenty of warm clothes.
What is the Weather Like in November in Glacier National Park?
November is the clear transition from fall into the quiet of winter for Glacier National Park. It is normal for over a foot of snow to fall in West Glacier in November mixed in with some cold rainy days as well. Expect high's in the 30's and lows in the 20's.
You can be assured there will be very few crowds in November. While stores and shops are closed down, it can be a wonderful time to go for a snowshoe or to look at the ice forming on the high mountain lakes.
What is the Weather Like in December in Glacier National Park?
By December, Winter is upon us in Glacier. December is actually the snowiest month in the Park with an average of 34.5 inches. Expect temperatures in the high 20's with an average low of 19 degrees at night. Glacier averages 12 days of precipitation in December so you'll want to ensure to dress warm for your early winter visit.
Most visits in December are centered around West Glacier with a visit to the Lake McDonald Lodge or getting photographs in the quaint town of Apgar. Usually by mid-December there can be great opportunities for snowshoeing and cross country skiing in and around Glacier. For the extreme, ice climbing comes alive in December as well.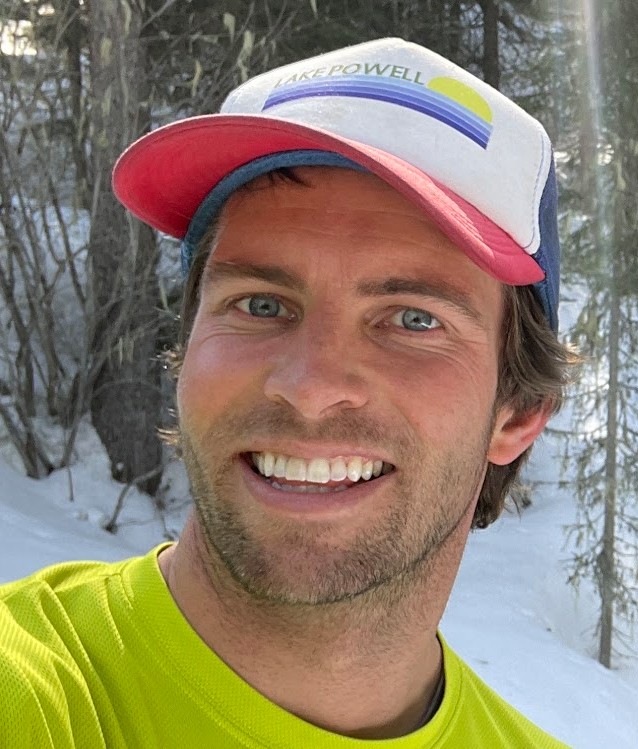 Travis V
Montana Native, Adventurer
Travis is a Montana native from Kalispell who loves the outdoors. When he's not getting clients out on tour he can be found discovering new peaks in Glacier or wetting a fly line in his favorite area of the North Fork of the Flathead River.
Top-Rated Tours in Glacier, Whitefish and the Flathead Valley
Resource for Things To Do near Glacier Park & The Flathead Valley
Discover excursion guides and local tips and tricks for visiting Montana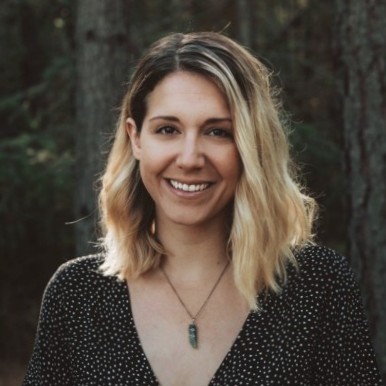 6 min read
Escape the summertime crowds and experience the magical winter wonderland of Glacier National Park! Travelers craving solitude and serenity will ...
Show More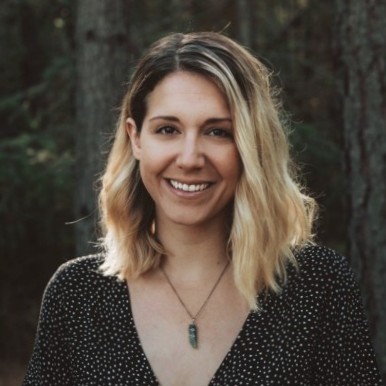 9 min read
You can't visit Glacier National Park without experiencing the Going-to-the-Sun Road! This highway across the Crown Jewel of the Continent ...
Show More