Visiting Glacier National Park in Winter
May 11, 2022 / updated May 23, 2022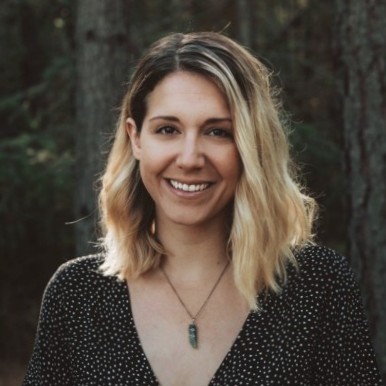 Escape the summertime crowds and experience the magical winter wonderland of Glacier National Park! Travelers craving solitude and serenity will find their paradise in Glacier's awe-inspiring winter landscape. While the weather reduces the services available, there are still endless opportunities for adventure in and around the park during these months. Due to the lack of open facilities during this time, visitors will need to do some extra planning.
Is Glacier National Park Open In Winter?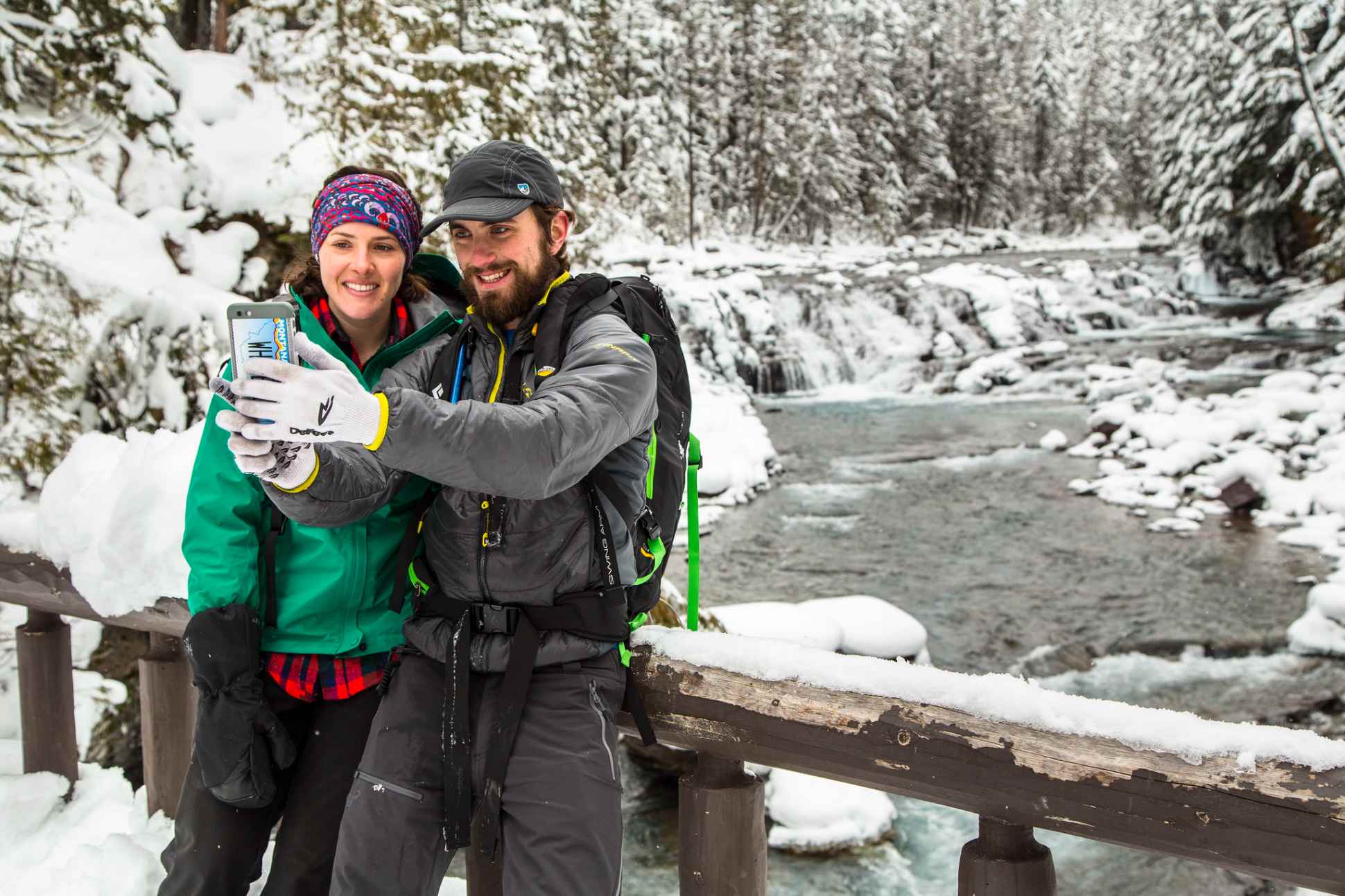 The West Glacier Entrance is open 24/7, every day of the year. An entrance fee will be required, even if the station is unstaffed. Most of the facilities in Glacier National Park are closed in wintertime (typically early October through late May), so visitors will need to be entirely self-sufficient. The Apgar Visitor Center (about 2 miles after the West Glacier Entrance) is typically open on the weekends during winter, and restrooms are always open here.
Are Roads In And Around Glacier National Park Plowed in Winter?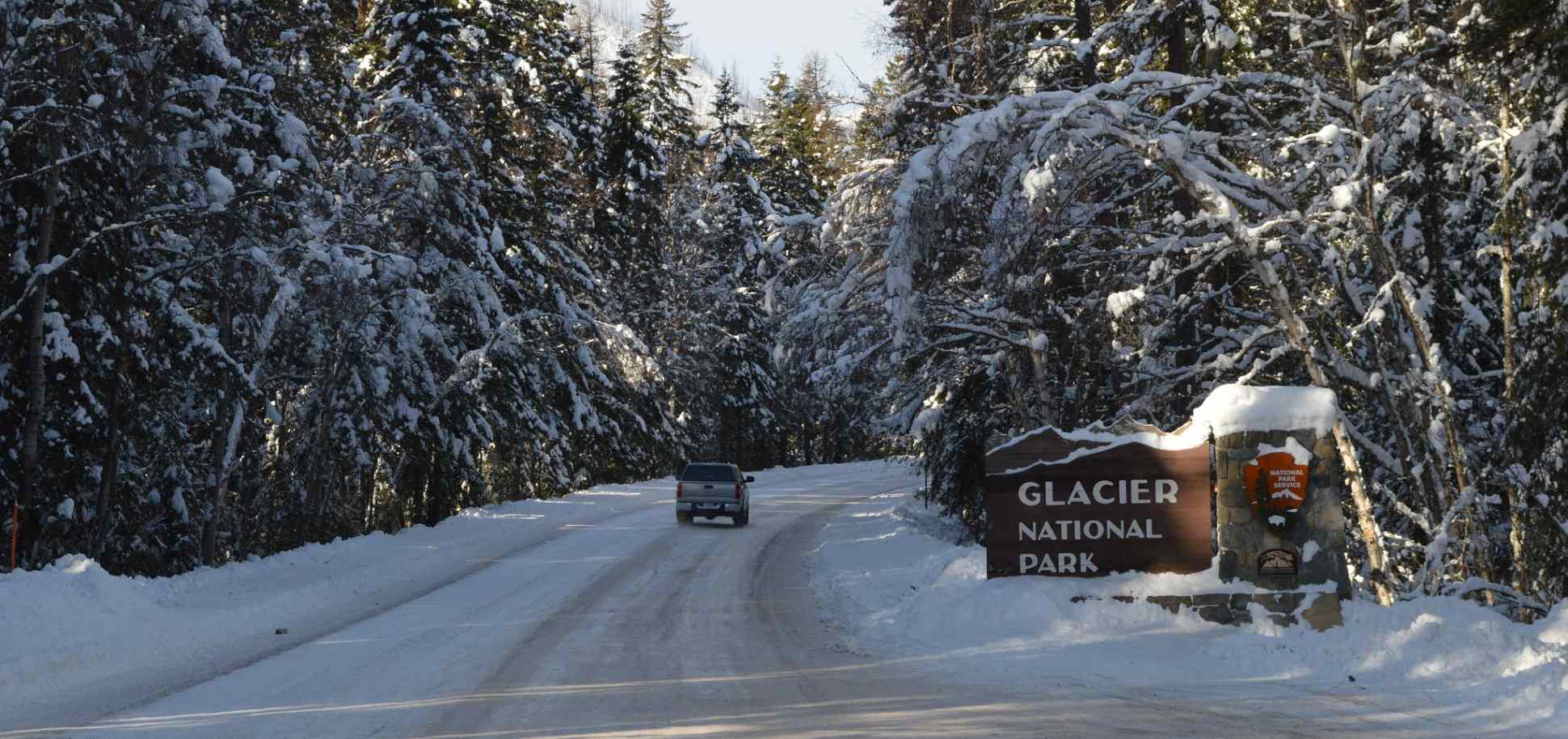 Once the snow starts falling, roads begin closing. Most roads in the park are closed in the winter due. But, the Going-to-the-Sun Road from the West Glacier Entrance to Lake McDonald Lodge (11 miles) is usually plowed and accessible by vehicles during this time.
From the east side entrance (St. Mary), you can usually drive the 1.5 miles to the St. Mary Campground.
Hwy 2 that travels along the southern border of Glacier National Park is maintained, and it's a beautiful drive from each side of the park.
What are the best options for traveling to and from Glacier National Park in Winter?
The highways around Glacier National Park are plowed, but you'll always need to take extra precaution during bad weather. Make sure to check road conditions, know how to drive safely in snow, and have proper snow tires or chains.
The nearby airport, just 24 miles from the West entrance of the park, is the Glacier Park International Airport (FCA). It offers many flights and is a very convenient way to get to here. Car rentals and shuttles are available right from the airport.
Consider a train trip! Amtrak's Empire Builder train travels across the northern United States from Chicago to the Pacific Northwest along major portions of the Lewis and Clark trail. This train stops year-round at West Glacier (WGL).
Check out our detailed post on How to Get to Glacier National Park (LINK)
Popular wintertime activities in and around Glacier National Park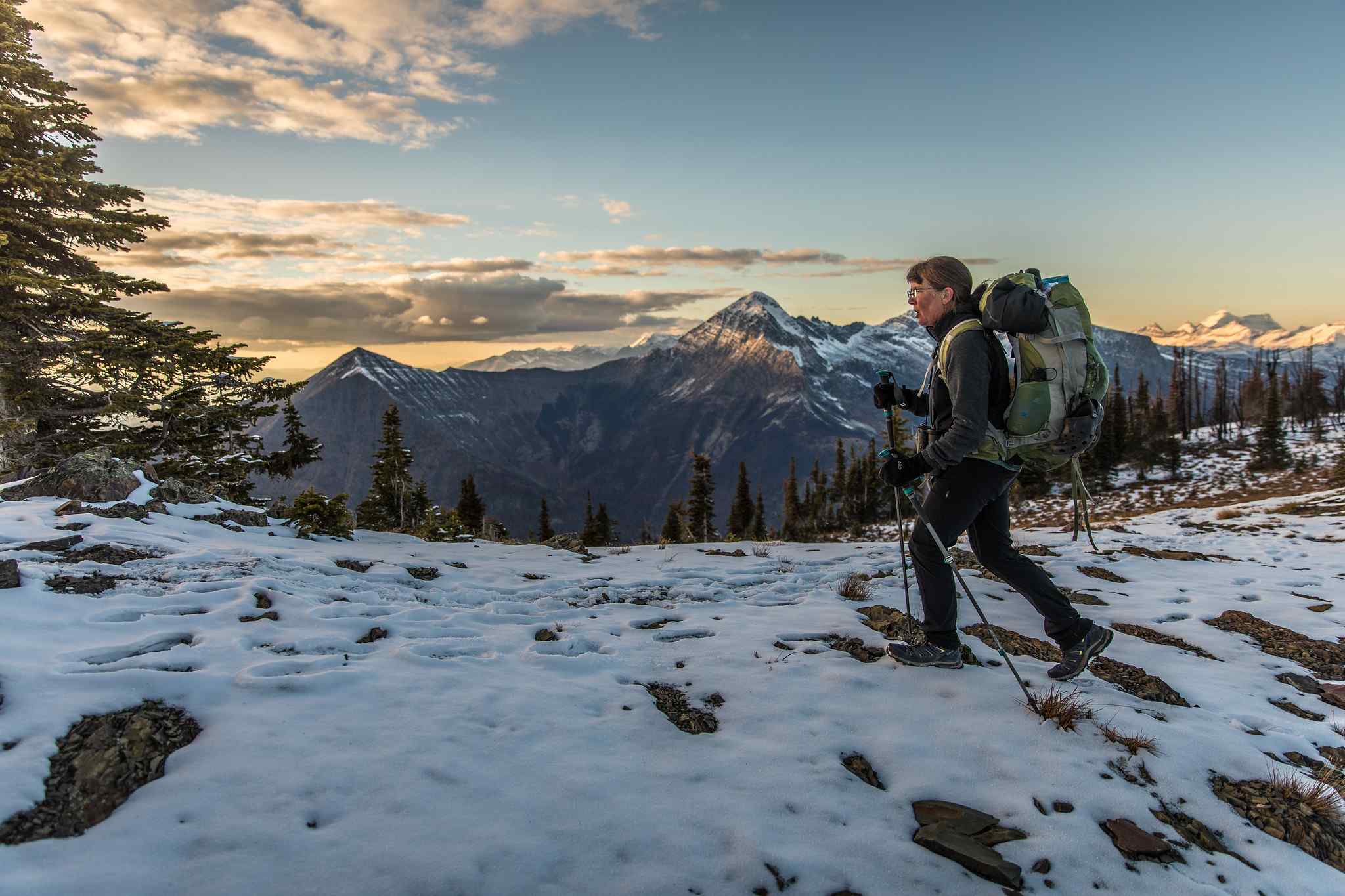 There are many fun things to do in and around Glacier National Park in the winter! These include sightseeing, cross-country skiing, snowshoeing, dog sledding, and snowmobiling. Two of the most popular activities inside of Glacier National Park in the winter are cross-country skiing and snowshoeing. Visitors in winter will get to enjoy the incredibly scenic snow-covered landscapes without the crowds that summer brings. Read below for information on experiencing these adventures either on your own or with a local guide.
Sightseeing
Since the road from West Glacier Entrance to the Lake McDonald Lodge is usually plowed, it's a great option for easily accessible sightseeing around this famed lake. Alternatively, join a local guide on a half-day tour of historic and scenic areas in Glacier National Park and the surrounding area. Learn the fascinating history and see the calm, snow covered landscapes around the Lake McDonald Lodge, Apgar Village, and the Hungry Horse Dam.
Cross-country skiing and snowshoeing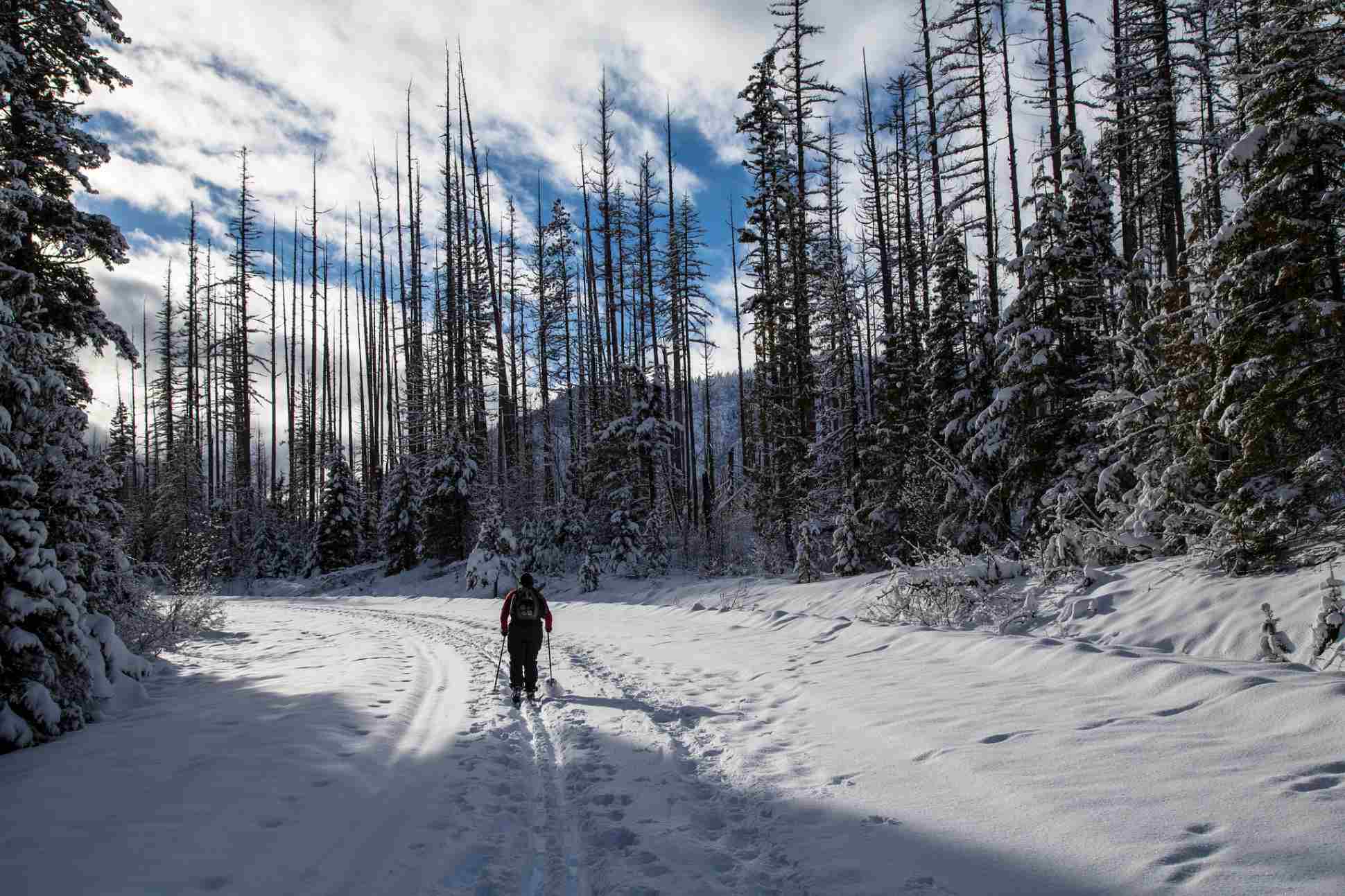 Experience the quiet and peaceful forests by snowshoe or XC ski! Many trails are available right from the West Glacier Entrance as well as outside of the park. The most popular trail begins at the parking lot of the Lake McDonald Lodge and follows the Going-to-the-Sun Road at a gradual incline. In less than two miles, a left turn off the road to cross the bridge will reward you with a stunning view of the McDonald Falls.
Keep in mind that weather conditions will affect the trail difficulty, and although snowshoeing is very easy to learn it is definitely a workout. Know your ability level and plan accordingly! Consider joining a guided 2-3 hour snowshoe or cross-country ski tour through this winter wonderland to enjoy the terrain safely. For those that are experienced and interested in a self-guided exploration, make sure to download the trail description and map brochure from the NPS.
Dog Sledding
For a truly special experience, take a sled ride pulled by a group of canine athletes through the snow covered forests! This guided tour takes place outside of Glacier north of Whitefish and is fun for the whole family, providing an unforgettable adventure.
Snowmobiling
Snowmobiles are not allowed inside of Glacier National Park, but there are many areas around the park to explore! Popular trails include the Canyon Creek complex and McGinnis Creek as well as hundreds of miles of trails along the Whitefish Range. Rentals are available and are outfitted with a GPS tracker, or you can enjoy a guided tour to experience the perfect trails and hidden gems!
Backcountry Skiing and Camping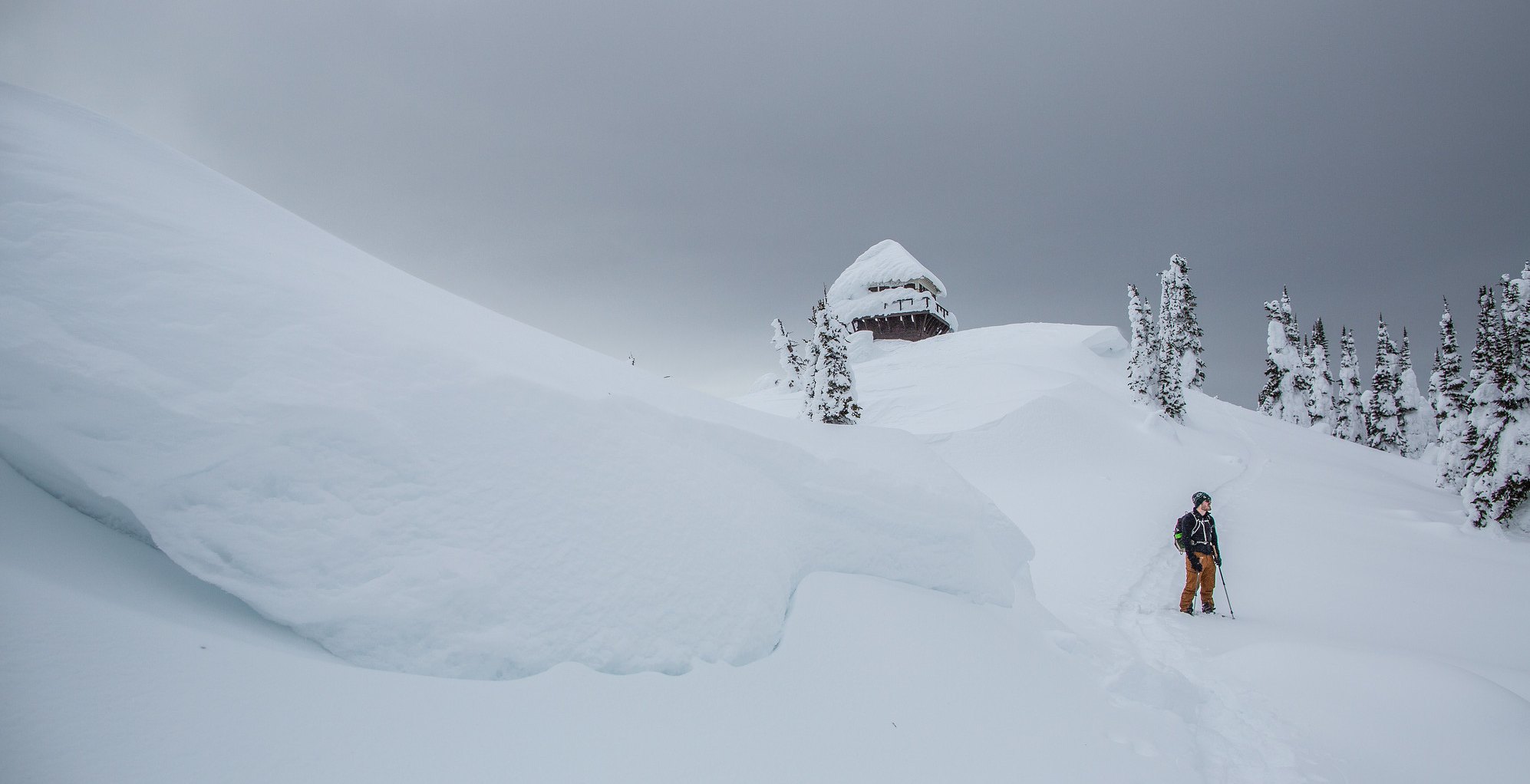 For the experienced and intrepid skier, an overnight trip in Glacier National Park will reward you with a unique and unparalleled experience. The journey up the Going-to-the-Sun Road from the West Glacier Entrance to Logan Pass is approximately 25 miles. This adventure is reserved for advanced skiers that are trained in avalanche safety and winter camping. Note that a backcountry permit is required and review the Leave No Trace principles. Also, check out this backcountry winter camping video by the NPS as a good primer.
Stay warm and safe during winter in Glacier National Park
The weather changes very quickly in Montana, so you'll need to be prepared with layers and the proper gear (see below for what to pack). Remember that the restaurants and facilities inside the park are closed this time of year, so be sure to pack enough water and food for your time here (a water station is available at the Apgar Visitor Center), as well as downloaded maps since cell service is limited. Always check the weather forecast before visiting.
Safety precautions need to be taken when recreating in the park. Hypothermia is the top danger to visitors in wintertime, so be sure to drink plenty of water, snack often, stay dry by wearing proper clothing, and pack survival gear. Be aware of tree wells and areas prone to avalanches, and do not ski on frozen lakes.
Wildlife is still very prevalent in winter. White-tailed deer are most commonly seen, and always remember that you are in bear and mountain-lion territory. Even though grizzlies should be hibernating, always carry bear spray and refresh your bear safety knowledge. Keep in mind that winter is difficult for animals and human contact adds to their stress. Stay at a distance and observe wildlife with binoculars.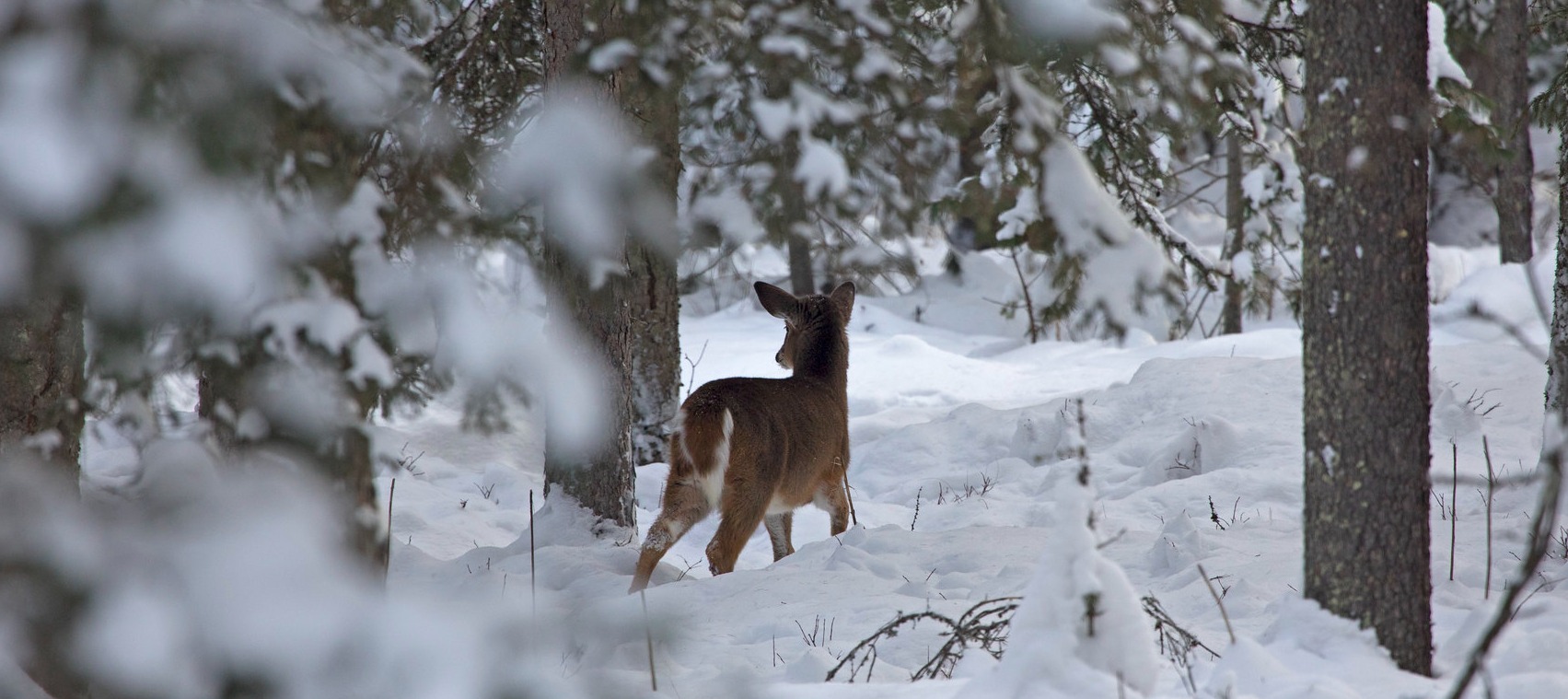 Stay updated on conditions and trail closures and current avalanche status, especially if you plan to go backcountry skiing.
Check in with the Traveler's Information Station at 1610 AM or call 406-888-7800.
Cozy places to stay in and around Glacier National Park in winter
The lodges inside of Glacier National Park are closed during winter. However, you can find many great options just outside of the park entrances. These include the historic Tamarack Lodge, Belton Chalet, and Izaak Walton Inn. Additionally, you can find many hotels and cabins in the surrounding area of Glacier, Columbia Falls, Whitefish, and Kalispell.
For the traveler that doesn't mind the cold, you can camp at the Apgar and St Mary Campgrounds, or in the backcountry with a permit. Additionally, several Forest Service cabins are available to rent.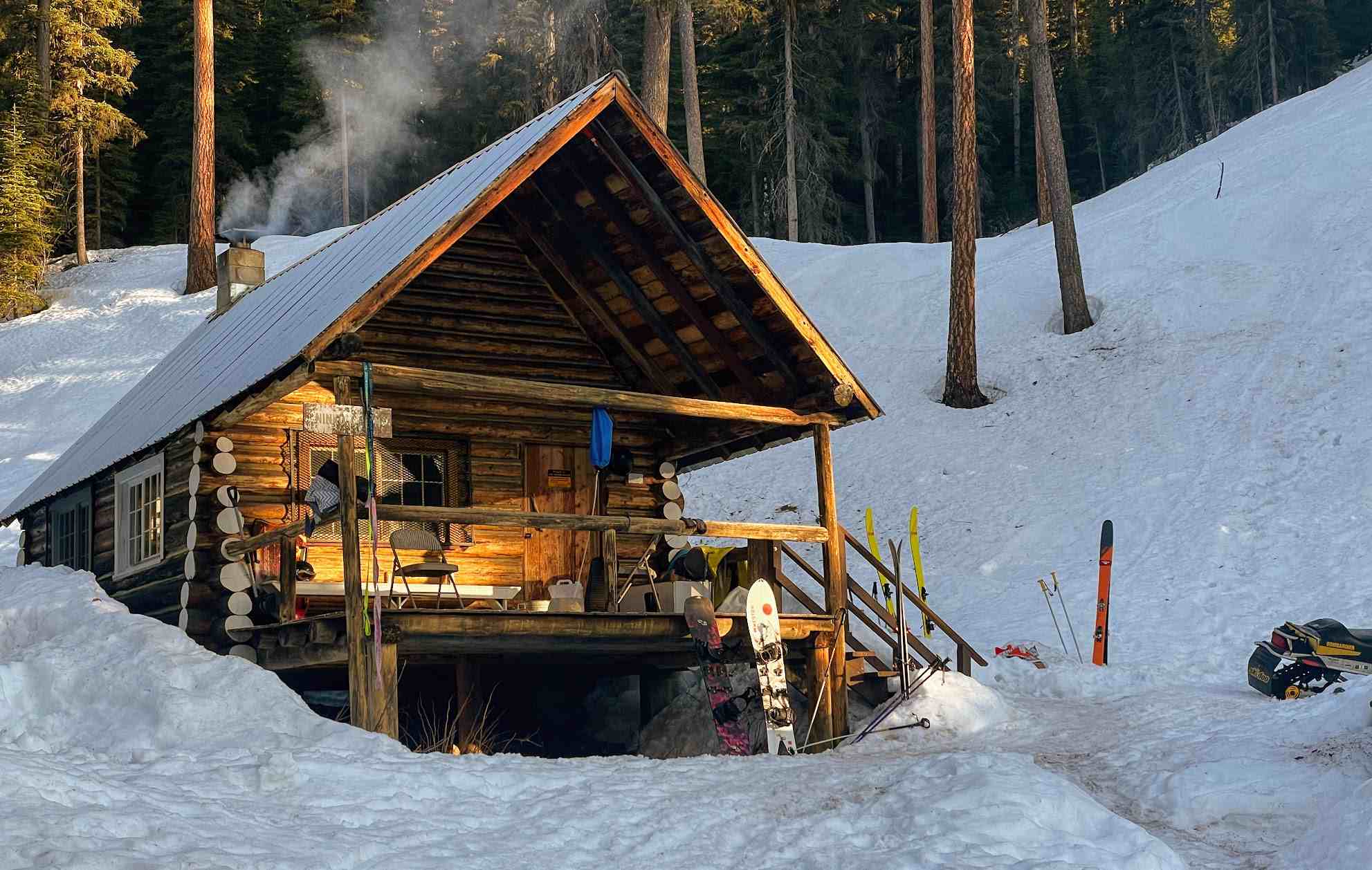 What to pack for a trip to Glacier National Park in Winter
Since the weather changes drastically, wearing proper layers is the best way to adjust to the changing temperatures throughout the day. All of the gear that you bring will depend on what activities you plan on doing. If you're joining a guided tour, you'll receive detailed information on what to bring and what gear is provided. But in general, the list below are must-haves for your trip to Glacier in the winter:
Gloves: waterproof and insulated.
Boots: waterproof with good traction.
Neck Gaiter: for warmth and sun protection.
Beanie
Base layers: quick-dry material like merino wool, polyester, and nylon. Avoid cotton!
Mid layers: warm and insulated material like fleece.
Jacket: waterproof and insulated, or a shell with an insulated mid-layer.
Hand and toe warmers
Backpack
Water bottle or hydration bladder
Snacks
First Aid Kit
Sunscreen
Sunglasses
Bear Spray
Printed maps and reservation information
Now you have a good idea of how to explore this magical place when the temperatures drop! Visitors to Glacier National Park in winter can truly enjoy solitude and experience this winter wonderland in a completely different way than most. Plan to adventure to nearby areas just outside of the park, as there are many things to do in the neighboring towns as well. Plan ahead, stay safe, and enjoy the calm serenity of our snow covered playgrounds!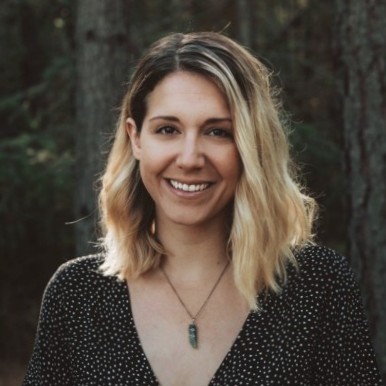 Cara L
Local Writer, Global Traveler
Cara lives in Columbia Falls, just 20 minutes from Glacier Park, where she enjoys hiking, biking and relaxing on a boat during the beautiful summers in Montana.